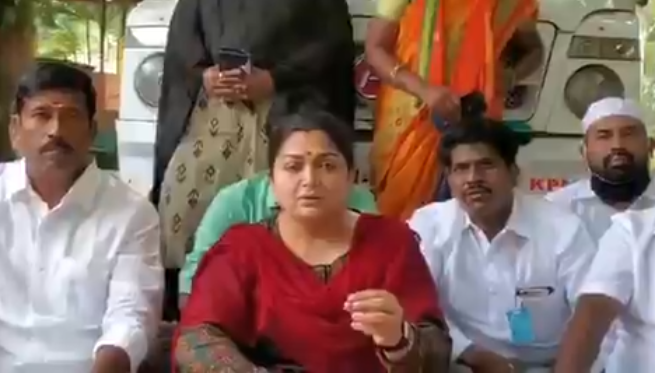 Police in Tamil Nadu's Chengalpattu district detained actor-politician Khushbu Sundar on Tuesday (October 27) while she was on her way to join a protest against VCK leader Thol Thirumavalavan for his recent comments on Hindu text Manusmriti.
"Arrested.. been taken in police van. we will fight till our last breath for the dignity of women. H'ble PM @narendramodi ji has always spoken about the safety of women and we walk on his path. We will never bow down to the atrocities of few elements out there. BHARAT MATA KI JAI!" Khushbu tweeted.
Thirumavalavan, the chief of Viduthalai Chiruthaigal Katchi (VCK) recently sought a ban on Manusmriti, alleging that the ancient Hindu text demeans women and treats them like sex objects.
Taking exception to the remarks, Khusbhu had headed to Cuddalore to take part in a protest staged by the women's wing of BJP despite being denied permission by police for the same.
The women's wing of the party has sought Thirumavalavan's apology for his comments and has called for protests across the state.
While the BJP has said that Thirumavalavan's comments have enough ammo to trigger communal clashes, the VCK leader has accused the saffron party of spreading fake news to spark violence.
A case has been filed against Thirumavlavan in this regard. It has been condemned by the DMK and Congress among other parties.
On Monday, the VCK leader faced protests from BJP cadres who blocked the road and raised slogans while he was on his way to Erode to attend a wedding. The protesters were countered by local VCK leaders who raised counter slogans.
Reports said a clash would have ensued between the two groups if the police had not reached the place in time.
Khushbu, who was the Congress spokesperson in Tamil Nadu, recently joined the BJP.