A 42-year-old commercial van driver was electrocuted after an electricity pole fell on him in Chitlapakkam of Chennai on Monday (September 17).
The driver Sethuraj had gone out to feed the stray dogs when the pole fell on him. He was rushed to a private hospital where he was declared brought dead. He is survived by his wife and two children.
According to reports, the Chitlapakkam police have filed a case of unnatural death based on a complaint by the victim's family, but activists and residents said that many electric poles and streetlights in the area are in a state of disrepair and that there has been no action despite multiple complaints.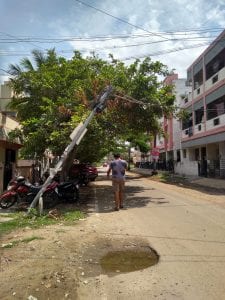 "We filed several complaints with the officials. But they always give the same reply 'We will do it'. Now a person has lost his life. Who will take care of his family?" asked Udhayakumar, an activist and resident of Chitlapakkam.
Udhayakumar also said that officials did not follow rules while placing the electricity poles. "The pole which fell on the victim was situated on the road which is a dead end. To sustain its load, a stay wire should be attached to the post. In this case, the stay wire was not attached to the post which claimed a life," he said.
Almost 50% of the poles in the neighbourhood are in disrepair and residents are worried that they might fall any day. "Soon monsoon will set in. I hope officials will repair all the poles before that," he added.