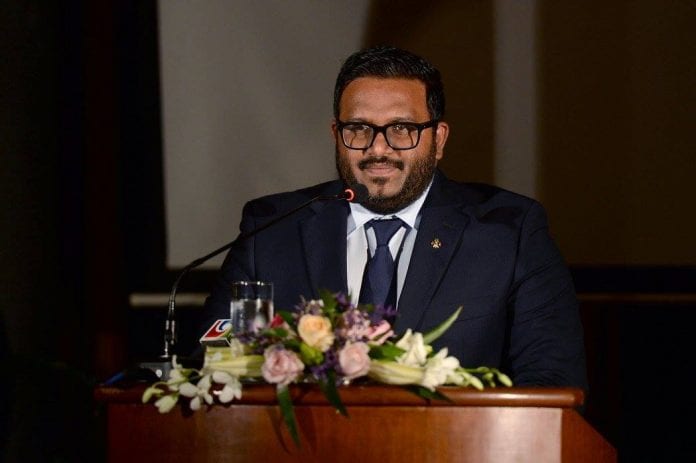 Maldives ex-vice president Ahmed Adeeb Abdul Gafoor, who had been detained for entering India illegally, was deported from the country to the Maldives in the wee hours of Saturday (August 3). Maldives security personnel also got hold of nine other Indonesians who accompanied him in the boat.
An official privy to the developments in Tuticorin port told The Federal that he was handed over to the security officers of Maldives at around 1 a.m. on Saturday. "Maldives security personnel reached at around 12:30 a.m. and after checking their credentials, Adeeb along with nine other Indonesian men who accompanied him in the tugboat were handed over to Maldives security personnel," the official said.
On Thursday (August 1), after being tipped off by one of the members in a Singapore-flagged tugboat, security personnel stopped the boat mid-way to Tuticorin port in the southern part of Tamil Nadu in India.
After checking the boat, port officials along with coast guard personnel found that a man had been travelling without proper travel documents. They later came to know that he was Maldives' ex-vice president Adeeb.
After interrogating him for hours, the Ministry of External Affairs released a statement on late Thursday saying Adeeb did not have any valid travel documents to enter India.
Also read: Fmr Maldivian VP detained in Tamil Nadu for illegally entering India
"There are designated entry points through which foreigners are allowed entry into India. The entry is facilitated on the basis of appropriate valid travel documents. In this instance, since he was not entering India through a designated entry point and did not possess valid documents, he has not been permitted entry into India." the Ministry of External Affairs said in a statement.
On Friday evening, Maldives police service stated that they were engaging with international parties to bring Adeeb back to the Maldives. Maldives police also said in their statement that all persons involved in aiding Adeeb to flee the country will be subjected to a criminal investigation.
According to a port official here, although the nine Indonesian natives who travelled along with Adeeb had proper travel documents, Maldives police took them under their custody to find out who helped Adeeb flee the country. "They will be interrogated and may be let off after knowing the facts," the official said.
Meanwhile, after knowing that Adeeb was detained in the boat and was not allowed to enter India, 'Guernica 37 International Justice Chambers', a UK-based law firm representing Adeeb, released a statement that Adeeb on Thursday sought the protection of India and initiated the process of claiming asylum.
Stating that Adeeb is at risk of becoming a victim of a politically motivated justice system, the release read, "Adeeb has sought asylum in a safe country, namely India."
Also read: Ferry service to connect India and Maldives for the first time
Further, in the statement, the law firm reminded India that it must consider the claim in accordance with relevant national and international rules. "He (Adeeb) cannot simply be returned to the Maldives, regardless of any relationship of the two states," the statement read.
According to sources, Adeeb was sentenced to 15 years imprisonment for reportedly conspiring to assassinate the then president Abdulla Yameen. He was also convicted of a few other charges, possession of firearms being one of them.
However, a court in the South Asian archipelago ordered a fresh trial on the same charges, citing excessive political interference in the case.
According to the Maldives Police Service, Adeeb has an active travel ban imposed by the Supreme Court of Maldives. He has been facing inquiries in connection with several other cases, including alleged misappropriation of state funds, corruption, and money laundering.
During his attempt to flee the Maldives, Adeeb has failed to appear for an investigative interview session scheduled by the police on July 31 (Wednesday).