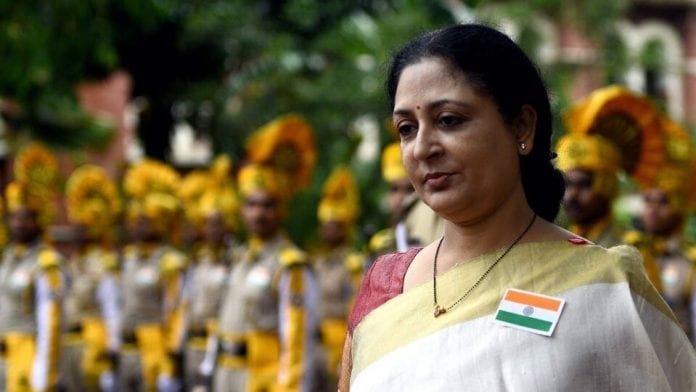 Chief Justice of the Madras High Court, Vijaya K Tahilramani put in her papers on Friday (September 7) after the Supreme Court declined to reconsider its decision to transfer her to Meghalaya High Court. Sources say that Tahilramani resigned on Friday (6 September) evening whereas she is due to retire in October 2020.
Sources said that, at a dinner meeting of judges in Chennai, allegedly Tahilramani conveyed that she is going to resign and would like to submit her resignation letter to competent authorities.
The dinner was hosted by six additional judges who were made permanent judges two days ago and the meet was held in the Tamil Nadu State Judicial Academy.
She also thanked the judges for their cooperation ever since she took over as the Chief Justice of the Madras High Court on August 12, last year.
Currently, there are three judges in the Meghalaya High Court and the Chief Justice of Meghalaya AK Mittal has been transferred to the Madras High Court.
Her transfer, from one of the oldest and largest High Courts in the country, with a strength of 75 judges to the Meghalaya's High Court with a strength of just three, is perceived to be  a demotion.
On August 28, the collegium headed by Chief Justice of India Ranjan Gogoi recommended her transfer to the Meghalaya High Court. This evoked criticism as Tahilramani is one of the senior-most High Court judges in the country, who has served as the Chief Justice of Madras and the Bombay High Court.
Tahilramani requested the collegium to reconsider its decision, but that was shot down. On Friday, over 100 advocates of the Madras High Court and other subordinate courts wrote to the collegium, asking it to reconsider its decision to transfer Tahilramani.
Reacting to Tahilramani's resignation, CPI(M) politburo Brinda Karat said that her resignation was shocking and surprising and that it was an insult. "As it is there are such few women judges at this level and the treatment meted out to her is insulting and humiliating not just to her but to women in general," Karat.
Referring to her transfer to Meghalaya High Court which has just three judges, Karat further said that "this entire episode once again highlights the unsatisfactory opaque present system of judicial appointments and transfers".