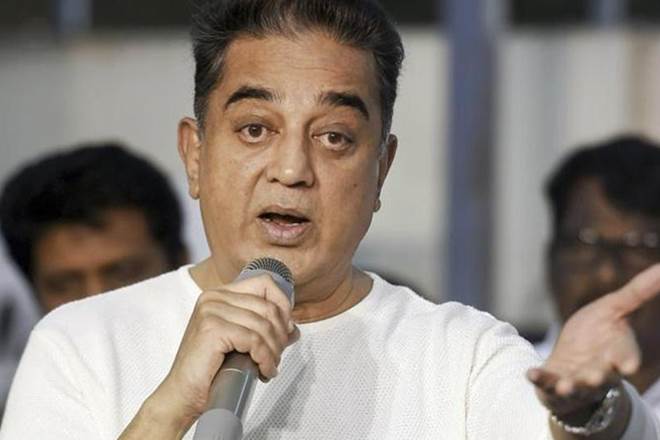 It's a well-known fact that actor-turned-politician Kamal Haasan is voracious reader. He doesn't keep the good habit to himself but recommends books to his close circles as well. To promote book reading among fans, he used the ongoing Big Boss Season – 4 (Tamil) to recommend one Tamil book every week. Nobody,  however, thought the actor's recommendation of a particular book would push a university to bring out a new edition of the hitherto out-of-print work.
A couple of weeks ago, Haasan recommended Alagar Koil, one of the monumental works of well-known historian Tho Paramasivan. The book is an architectural, cultural and historical research work about Kallalagar temple in Madurai district.
Published by Madurai Kamarajar University (MKU), the book was first published in 1989. After that the book went out of print. When Kamal suggested this book, many started searching for it but were disappointed to know it was out of print. Fortunately, the electronic version of the book is available on the internet. However, many called up the university and public libraries for a hard copy.
After learning that the book has a good market, Madurai Kamarajar University has brought out a new edition last week.
Buddhist turned Vaishnavite temple 
There are 12 poet saints who are venerated in the Vaishnavite sect, called Alvars. It was Nammalvar, the head of 11 Alvars, who gave the temple a name 'Alagar Koil' for the first time.
Ancient Tamil Nadu has witnessed a lot of disputes between religions such as Saivism, Vaishnavism, Buddhism and Jainism.
Every time a Vaishnavite king fought against a king of another religion, he would install a Narasimma idol and worship it. This is why Narasimma worship is popular in Alagar temple. It was Buddhists who were opposed by the Kings in Madurai then.
Noted historians like Mayilai Seeni Venkatasami claim that this temple could have been under the influence of Buddhism for many years before it went into the hands of Vaishnavites. He gives an interesting example to prove his claim.
The tonsuring of heads is not practised in any Vaishnavite temple in the state. But only in Alagar Koil, devotees do so. It could be the tradition given by the Buddhists because they used to tonsure their heads, says Venkatasami.
Alagar's relationship with Kallars
The deity is called 'Kallalagar'. As the name suggests, Alagar is the family god of the Kallar caste. The legend goes that when Thirumal took a human avatar, he was taken on procession during his marriage. Enroute, the Kallars intercepted the procession to rob. It was then that Thirumal gave them a divine 'darshan' and Kallars realised their crime. To commemorate this event, this incident is still practised as a ritual and Kallars are given a special place in it.
Generally in Vaishnavite temples, the chakra in the hands of Thirumal (Vishnu), has always been an ornament. But here, it has been kept in a way that it is prepared to fly in the air.
In Tamil Nadu, Shaivite or Vaishnavite temple notwithstanding, there is no special name for sanctum sanctorum. But only here the sanctum sanctorum is known as 'Nangal Kundram'.
This was the only temple which was prescribed in one song (found in Paripaadal) in whole Sangam texts, asking the readers to visit the temple with their family and get blessings.
A site of Hindu-Muslim unity
The Chithirai Thiruvizha is an important festival in Madurai. The deity, Alagar, stepping into Vaigai river is part of the festival. The legend goes like this: Alagar came to attend the marriage of his younger sister Goddess Meenakshi. However, the wedding is over before Alagar arrives. So, he leaves all his gifts some kilometers before the actual destination and returns to his place. While returning, he stays in the home of Thulukka Nachiyar.
It is interesting to note that in real terms, there is no separate temple for Nachiyar. Alagar actually stays in a small Perumal temple at Vandiyoor, but locals consider it as a Nachiyar temple.
"The legend of Tulukka Nacciyar must have grown up around memories of the Mohammadan invasions and the sack of Srirangam and is of considerable interest to a student of folklore. The Shrine of Bibi Acciyar in the Srirangam Temple is a standing testimony to this tradition, which is common to most Vishnu temples, which suffered from Muslim raids at one time or another," Paramasivan quotes renowned historian VN Hari Rao.
Disempowering the enemy by acknowledging and celebrating them, is a feature in the landlord community, says Paramasivan.  It seems, Vaishnavism in Tamil Nadu, has unsharpened the animosity of Muslims, he added.
Also read: What alternative will Rajini, Kamal offer to age-old Dravidianism?
"In Tamil Nadu, it was Telugu speaking Nayakars who brought an end to the Muslim rule. So it is natural that there would be an enmity between Telugu people and Muslims. However, Telugu speaking communities, such as Naidu, Nayakar, Reddiar, which are Vaishnavites, and Tamil speaking Muslims used to call each other as 'Maman – Marumagan' (uncle – son-in-law)" he said.
University's lackadaisical approach
There are 21 state universities in Tamil Nadu and each one has its own publication division. A considerable amount of money is allocated to the division, which the universities use to publish textbooks. Besides, they also can bring out research works.
Most universities, however, are only keen on publishing textbooks, alleged former professor Ramar Ilango, who served as a publication director of Bharathidasan University, Trichy.
"The textbooks can bring profit and it can be sold with discounts. Since the readership is low for research works, most of the universities are hesitant to publish such works. They should not worry about paper cost since the cost is very low when they get bulk orders from state-run Tamil Nadu Newsprint and Papers Limited," he said.
Paraman of Madurai-based Karuthupattarai Publications said that researchers and readers have been asking the Madurai Kamarajar University to republish 'Alagar Koil' for several years now, but their demands have fallen on deaf ears.
"Now after Kamal Haasan's recommendation, the work has got attention. However, we believe that it was because of constant pressure mounted on the university that the book has been republished. So it could be a pure coincidence. The university also rejected when other publishers approached them to republish its works," Paraman alleged.
The republished book, however, did not bear the author's name in its cover and the production quality is very poor, said Paraman. The book is priced at Rs 350.
"The gap between first edition and the second could be a year or two, but in case of 'Alagar Koil' it has been more than 30 years. Such a delay by a university is not justifiable," said Ilango.