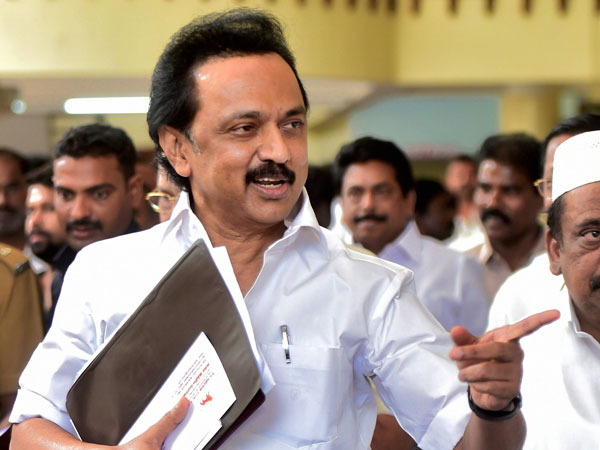 The DMK-led secular democratic front has swept the Lok Sabha polls in Tami Nadu, bagging  38 of the 39 constituencies in the state and Puducherry.
Since counting began at 8 am on Thursday, all DMK candidates have been leading in all the constituencies except in Dharmapuri. DMK's key candidates, including  MK Kanimozhi, A Raja, TR Baalu, Tamizhachi Thangapandian, S Jagathrakshagan were leading from the start and managed to stay ahead with high margins in all the constituencies they contested.
Dharmapuri constituency, where Pataali Makkal Katchi leader Anbumani Ramadoss in contesting, showed constant fluctuation till about noon. But after 1 pm, the seat saw a huge swing favouring DMK candidate S Senthilkumar, who took over and continued to lead.
In the initial stages, Coimbatore and Tiruppur continued to sway towards AIADMK led alliance. However, the Left parties CPM in Coimbatore and CPI in Tiruppur earned the much needed seats to open account in the South, thereby increasing the possibilities of four Left MPs from TN to the Parliament
In the key constituency of Chidambaram, until 5 pm, there was a neck-and-neck fight between the DMK-led alliance's VCK supremo Thol Thirumavalavan and AIADMK's P Chandrasekhar. But by 6 pm, the dalit face of TN politics was leading by over 8,000 votes.
In the capital of Chennai, all three constituencies have been picked by the DMK reclaiming its bastion, reversing the 2014 trend when AIADMK swept all three seats.
The lone ranger from the AIADMK has been OP Ravindranath, who has been able to withstand the onslaught of the DMK led alliance, in Theni. The young candidate has also led a strong fight against Congress veteran EVKS Elangovan with a margin of 37,770 votes—though registering one of the lowest margins.
The DMK-led alliance has been on the strongest foot with high margins by S Thirunavukkarasar in Trichy (4.53 lakh votes), P Velusamy in Dindigul (4.43 lakh votes), and TR Paarivendhar in Perambalur (3.9 lakh votes).