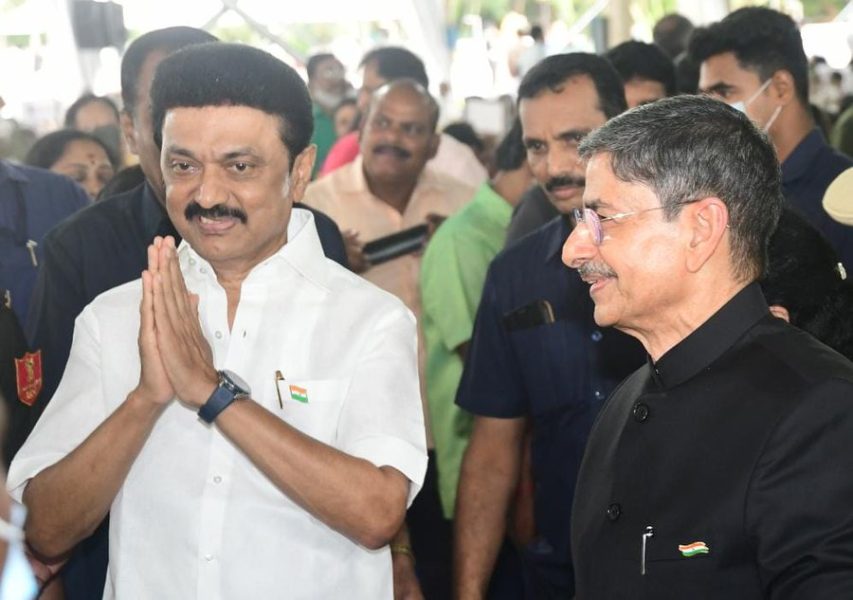 Ravi unfit to be Governor, 'threat' to TN's peace: Stalin writes to President Murmu
Tamil Nadu Governor RN Ravi is unfit to hold the gubernatorial office as he functioned as a political opponent and looked for 'opportunities to topple the State government', Chief Minister MK Stalin has conveyed to President Droupadi Murmu, the government said on Sunday (July 9).
Ravi "defamed" Tamil culture, indulged in "cheap politics", instigated "communal hatred" and he is a "threat" to Tamil Nadu's peace, he said adding through such actions the Governor violated his oath.
In a letter to Murmu, Stalin said that Ravi has violated the oath of office he took under Article 159 of the Constitution, the government said in an official release.
Also read: DMK may look at ways to take on TN Governor Ravi over Senthil Balaji's 'dismissal'
Looks for 'opportunities to topple the State government'
A Governor who looks for "opportunities to topple the State government" in a state ruled by a party (DMK) opposed to the party in power at the Centre (BJP) could be regarded as a mere agent of the Union government, Stalin said.
Such a course of action pursued by a Governor would destroy the Indian democracy's basic tenets by damaging the principle of federalism. Governor RN Ravi is 'a good example' of such a behaviour, he added.
"Ravi is stoking communal hatred and he is a threat to Tamil Nadu's peace," Stalin said in a letter dated July 8, 2023.
Also watch: TN Governor Ravi dismisses Senthil Balaji as minister, cites pending criminal cases
On the recent issue of the Governor's move to dismiss Minister V Senthil Balaji from the Cabinet, which he later backtracked from, Ravi showed his political slant, the CM claimed in his letter. Balaji was arrested by the Enforcement Directorate last month in a cash-for-jobs case.
On the one hand, Ravi delayed sanction to prosecute former ministers in the previous AIADMK regime and on the other hand, through his hasty action in Senthil Balaji's matter – against whom only now a probe has begun – he has displayed his political inclinations, the letter said.
In handling the Senthil Balaji issue, Stalin said Ravi made serious violation of Constitutional provisions. Initially, he had declined to accept the recommendation of retaining Balaji as a Minister.
Also watch: TN Governor retreats on Senthil Balaji's dismissal amid backlash | DMK | RN Ravi | MK Stalin
'Ravi is fit to be removed from the high office'
Ravi also demanded on May 31 that Senthil Balaji be dropped from Cabinet till he was cleared of all criminal charges against him. Citing Constitutional provisions and relevant laws, the CM said it was his prerogative to induct Ministers into the Cabinet or remove them.
"By way of his behaviour and action, the Governor has proved to be partial and ineligible to hold the office of Governor; Ravi is fit to be removed from the high office," the CM emphasised in his letter.
Stalin told Murmu that he was leaving the matter – of removing Ravi from office – to her, to decide whether Tamil Nadu Governor's continuation in office would be desirable or suitable considering the sentiments and dignity of the founding fathers of India's Constitution.
Annamalai's reaction
BJP State president K Annamalai in a tweet dismissed the letter as a 'long cry note' and posing several questions asked Stalin to 'stop complaining & start delivering.'
Happen to read the long cry note written by Corrupt DMK Govt's Chief Minister Thiru @mkstalin to our Hon President of India complaining about the functioning of the Governor.

Thiru @mkstalin seems to have forgotten that the Hon Governor is fulfilling the wants of his while he…

— K.Annamalai (@annamalai_k) July 9, 2023
The CM said he believed Murmu would accept that a Governor must be secular in outlook, transcend political likes and dislikes and have no expectations in respect of 'party politics' and 'future appointments.'
19-page statement
In a 19-page statement – extracts from Stalin's letter to Murmu – the government quoted the CM as saying that Ravi openly functioned against the policies of the Tamil Nadu government.
The Governor caused unnecessary delay in clearing Bills passed by the Assembly besides files and posed hindrance to the work of the state government and the Assembly, Stalin said.
Stalin said Ravi's tenure as Governor in Nagaland was also not satisfactory and the Nationalist Democratic Progressive Party (NDPP) there had said that there was peace only after his exit.
Ever since he assumed office as TN Governor in September 2021, Ravi had all along been involved in an ideologocial and political battle with the DMK regime, duly elected by the people.
Several of Ravi's activities demonstrated that he was unfit to be Governor, the CM said.
"Unnecessary delay" in giving assent to Bills passed by the Assembly, putting on hold files related to according sanction to prosecute former AIADMK Ministers, interference in police cases were among the several reasons cited by him.
Under the heading, 'functioning as a political and ideological opponent of the elected state government,' Stalin said it was unbecoming of a Governor to express his political and religious opinions in public.
Through his undesirable, 'divisive religious speeches,' the Governor has been often making known that he does not have 'faith' in secularism.
Stalin claimed, on November 9, 2022, Ravi's comment that 'like other parts of the world, India too is dependent on a single religion' is an affront to the Constitution.
The CM conveyed to the President that she knew well India was not dependent on any religion but only on the Constitution and laws. The nation's strength and beauty lay on pluralism and religious harmony built over several centuries.
Ravi's remarks allegedly disparaging Tamil people
Ravi "praising" Sanatana Dharma, "communalising" Tamil classic Tirukkural 'condemning' Dravidian tradition and the pride of Tamil were among other points made by Stalin.
He extensively quoted reportage on Ravi's remarks allegedly disparaging Tamil people, culture, literature and the Dravidian ideology and politics.
He underlined people's "wounded pride" and "sentiments". Ravi forgot that he did not win any election in TN to decide what was good for the state's people.
Ravi labelling Dravidian politics as regressive was not only defamatory but also showed his ignorance. Owing to the Dravidian regimes (DMK and AIADMK) and Dravidian politics during the past over 50 years, Tamil Nadu stood as the only state where development and social justice converged, the CM said.
Nationally, TN's place is among the first three slots in terms of growth, he said and cited the Social Progress Index score (2022) of 63.33 as against the national average of 60.19. By studying such data, the CM said impartial people could judge if Dravidian politics was reactionary or progressive.
TN's name change suggestion
Stalin also slammed Ravi's "comment on federalism", that states were created for administrative convenience was defamatory and shocking.
The CM said Ravi expressed an unacceptable opinion that the state's name Tamil Nadu should be changed to Tamizhagam, which showed his hatred towards Tamil Nadu. (Ravi later said he did not suggest changing the state's name.) This remark besmirched the name "Tamil Nadu".
The State was named TN by late Chief Minister CN Annadurai, who symbolised both Dravidian heritage and the major Dravidian parties, the DMK and AIADMK, Stalin said in his letter.
In essence, Ravi was against the welfare of the Tamil people and had deep-rooted and inexplicable animosity towards Tamil Nadu, the Tamil people and their culture. Ravi's remark that "literature has been badly taught" disparaged Tamil literature and such statements only showed that he has violated the oath of office under the Constitution, Stalin said.
Ravi refusing to read out names of iconic leaders
Also, Stalin underscored Ravi avoiding reading out in Assembly (Governor's Address on January 9, 2023) certain portions of the government-prepared text, which was again tantamount to violating his oath. Under the Constitution, he has the mandate to function as per the aid and advise of the Council of Ministers. Ravi refusing to read out the names of iconic leaders such as Periyar, Dr Ambedkar, Kamaraj, Annadurai and M Karunanidhi insulted not only the people of Tamil Nadu but the whole nation. He refrained from reading out the names of leaders even after approving the draft.
The CM also pointed to Ravi's comment "against" his visit abroad to woo investors and said it demonstrated that he was "more interested in cheap politics" than functioning in a dignified manner as a Governor.
Stalin also flayed Ravi for "supporting" the accused and "interfering" in police probe into the alleged child marriages held at Chidambaram.
தமிழ்நாடு ஆளுநர் திரு. ஆர்.என்.ரவி அவர்களின் செயல்பாடுகள் தமிழ்நாட்டிற்கும், தமிழ்நாட்டு மக்களுக்கும், மக்களால் தேர்ந்தெடுக்கப்பட்ட அரசுக்கும் எதிராக அமைந்துள்ளது குறித்தும், அரசியலமைப்புச் சட்ட மீறல்கள் குறித்தும் மாண்புமிகு முதலமைச்சர் @mkstalin அவர்கள் மாண்புமிகு குடியரசுத்… pic.twitter.com/gFt3XXYoOD

— CMOTamilNadu (@CMOTamilnadu) July 9, 2023
(With agency inputs)