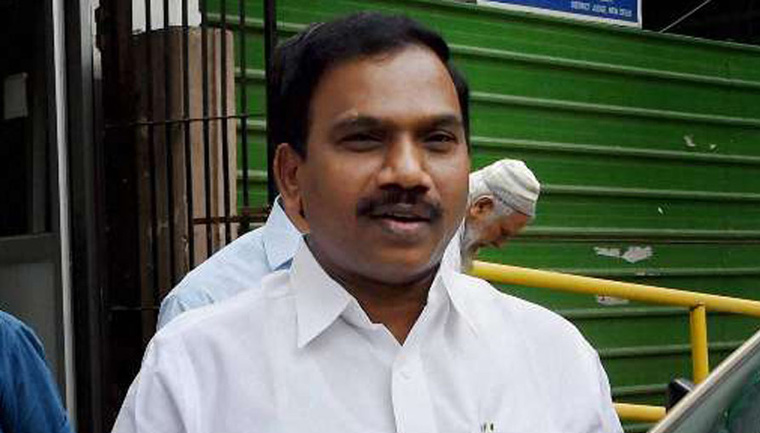 Clad in a white shirt and dhoti, along with a muffler bearing the colours of his party – the Dravida Munnetra Kazhagam (DMK)'s Andimuthu Raja is busy helming a campaign in the Nilgiris constituency. Raja is contesting the Lok Sabha elections for the third time in a row, and the DMK, which has a hold in the hills, has chosen A Raja as its candidate.
When he was fielded in the Nilgiris for the first time in 2009, Raja said, 'Perambalur enakku pirandha veedu, Nilagiri enakku pugundha veedu' (Perambalur is the home where I was born and Nilgiris is my in-laws home). He won, bagging 44.64% of the votes. However, that was the time when his 2G spectrum cases caught up with him, leading to his 15-month stint in Tihar jail. In 2014, he contested from the same constituency but lost to C Gopalakrishnan, by almost 1 lakh votes.
This time, aided by the acquittal in the 2G case, Raja is set to contest with renewed vigour. The Badagas, natives of Nilgiris, may think twice before voting for him, but many dalits, who are mostly Sri Lankan Tamil repatriates, sympathise with him.
A passage to India
Sathyaseelan — later given the moniker 'Raja' by his brother-in-law Pachamuthu — was born in Perambalur district of Tamil Nadu in 1963. His grandparents, Kaliaperumal and Unnamalai, had earlier migrated from Velur, a village in Perambalur, to Sri Lanka in search of work. They returned to India in the 1950s, and Raja's parents, Andimuthu and Chinnapillai, followed suit in 1961.
Though Raja's family was god-fearing, he was attracted to atheism and rationalism at a young age. When he was at a government high school in Padalur, he got to know about Periyar and Dravidar Kazhagam (DK). At Anna Padippagam, a DMK-run library near his hostel in Padalur, he was introduced to the works of Periyar, former Chief Minister CN Annadurai and M Karunanidhi. . He was also drawn to the ideology of Dr BR Ambedkar and that of Karl Marx.
He enrolled in a BSc Mathematics course at Arignar Anna Government Arts College in Musiri, but was a reluctant student of the subject. With encouragement from his Tamil professor Karuvai Palanichamy, he published a book of poems titled 'Oru Suyasarithai'. Raja entered the world of politics during his final year of undergraduate studies, and with the help of Tiruchi Siva, registered himself as a member of DMK's students' wing.
Law student to law maker
Raja went against the wishes of his family and chose to pursue law in 1984. He began his career as an advocate in 1988 but it had to be put on hold when the opportunity of contesting for Parliament came knocking on his door.
When Vaiko alias V Gopalsamy was expelled from the DMK in 1993, a candidate was needed for the 1996 Lok Sabha elections. Based on the recommendations of former Rajya Sabha MP S Siva Subramaniam and former minister KN Nehru, the party gave Raja a seat in Perambalur constituency. He won the mandate and entered the Parliament for the first time. He proceeded to contest from the same constituency during the 1999 and 2004 elections. During his time as an MP, he held various portfolios like Minister of State for Rural Development, Minister of State for Health and Family Welfare, cabinet minister for environment and forests and cabinet minister for communication and technology.
DMK's hold on repatriates
A majority of repatriates from Sri Lanka are spread across four districts of Tamil Nadu — Udhagamandalam, Coimbatore, Tirupur and Erode. Born in a Sri Lankan repatriate family, Raja is considered one among them by the repatriate community. A number of repatriates settled in the Nilgiris as employment opportunities were similar to those in Sri Lanka.
When the Shastri-Sirimavo pact was signed, more than 5 lakh Tamil people returned to Tamil Nadu from Sri Lanka. The bilateral agreement said it would grant citizenship to a part of Indian population in Sri Lanka, and that another portion would be repatriated to India
In 1974, another bilateral agreement paved the way for more Indian origin people to return to the country from Sri Lanka. All the repatriates of 1964 and 1974 consider themselves to be SC. The total number of SCs in the Nilgiris is 2,35,878 as per the 2011 Census. As of 2018, 27.5% (65,000) are repatriates.
In order to rehabilitate repatriates who had worked on tea plantations, the DMK established the Tamil Nadu Tea Plantation Corporation (TANTEA) in 1968. As of 2019, around 9,000 repatriates and their families are dependent on TANTEA.
In 1989, the DMK government issued an order to allow the children of repatriates to study in state-run schools and colleges. The order was suspended in 1991 by the AIADMK government in response to Rajiv Gandhi's assassination.  However, the order was later upheld by the DMK government.
In hindsight, repatriates have been the recipients of more welfare measures from the DMK than the AIADMK. These measures in turn have ensured that their symopathy, and by extension their votes, reach Raja and the DMK.