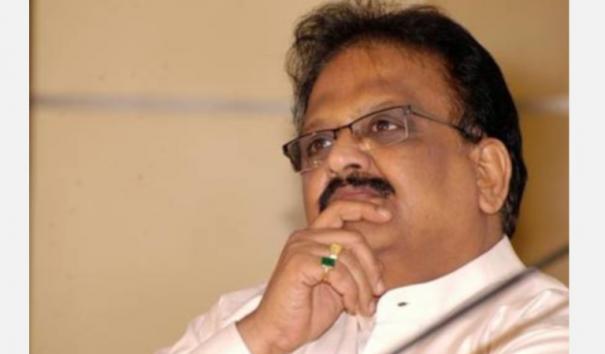 Prayers and 'get well soon' wishes have poured in from fans, the film fraternity, politicians and celebrities from various walks of life for renowned playback singer SP Balasubrahmanyam, whose has been affected with COVID-19 and remains critical at a private hospital in Chennai.
SPB Charan, the singer's song in a video message on August 15 had said that they are expecting a slow recovery.
"The doctors are calling him critical. But cautiously he is getting stable. There is a very good response from the ventilator. His lungs were functioning better than yesterday. The doctors are very confident that he will get through this. It is a time consuming process. It is not a daily update issue. We are, though expecting a recovery, it is going to be a slow recovery. People's prayer are definitely helping," he said.
Veteran composer Ilayaraja whose collaboration with the singer has resulted in some of the masterpieces of Tamil music, through a video message, has wished SPB a speedy recovery.
"The friendship between us was not started in film industry. Even though we fight at times, the mutual love between us remains the same. Like how swaras and music can't be separated, our friendship too cannot be separated. My intuition says you will be back soon. Let that come true," he said.
RAJA of MUSIC❤️?
RAJA of FRIENDSHIP❤️???

I got so emotional watching this!

Very Soon we r gona see #Ilayaraja sir & #SPB sir on STAGE together n Celebrate as sn as d PANDEMIC gets Over..

D way He said "Balu Seeggaram Vaa"..I got goosebumps n tears❤️#GetWellSoonSPB ❤️?? pic.twitter.com/L18uAH8dJr

— DEVI SRI PRASAD (@ThisIsDSP) August 14, 2020
Playback singer KS Chithra, who has sung many songs with SPB said that his positive attitude will bring him back.
"He is a leader to us. If only a leader remains strong, we can also be strong. He always used to encourage his co-singers. He always had a positive attitude towards life. That will bring back him," she said.
S P B sir is a strong & positive person. I am sure he will come out of the present situation. Prayers for Sir's speedy recovery. ?#SPB

— K S Chithra (@KSChithra) August 14, 2020
 Choreographer Raghava Lawrence reminisced the kind gesture of SPB on his social media account.
"I strongly believe that SPB sir will recover from COVID and come back soon. He is a great singer as well as a great human being. He came to my trust seven years back and served food for my children with his own hands. His service and good heart will save him," he wrote.
Everyone pray for SPB sir recovery ? pic.twitter.com/H7q8mcELq1

— Raghava Lawrence (@offl_Lawrence) August 14, 2020
 MP Dayanidhi Maran has tweeted that SPB is a remarkable human being with an indomitable fighting spirit.
Thiru #SPBalasubrahmanyam, one of the finest singers of our country and a living legend of South Indian cinema is also a truly remarkable human being with an indomitable fighting spirit. My best wishes to Thiru #SPB for a speedy recovery to good health. pic.twitter.com/j2U6hji7WY

— தயாநிதி மாறன் Dayanidhi Maran (@Dayanidhi_Maran) August 14, 2020
 "He stole many of our hearts by singing 'Aayiram Nilavae Vaa'. He should recover fast and sing a thousand more songs," he said.