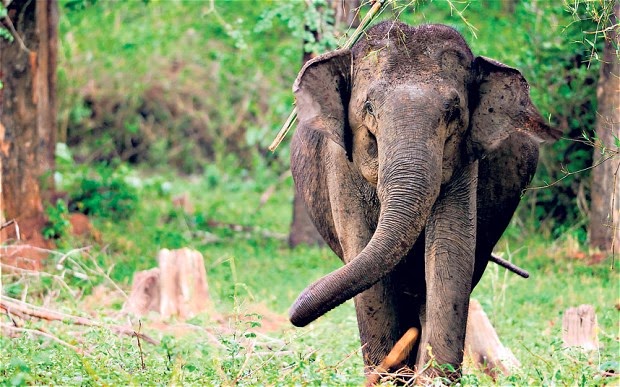 In search of water, space, Western Ghats elephants stray out of forests
At a time when acute water crisis ails most parts of Tamil Nadu, residential areas and villages near the forests of Western Ghats are witnessing an intrusion of elephants. While locals say that lack of water in the forest has driven the animals out of their habitat, environmentalists say water crisis may not be the sole reason for such a migration.
The straying of elephants into human habitations has been recorded in areas like Pollachi, Valparai and Mettupalayam which are located in the foothills of the Western Ghats. While these areas are considered to be water-surplus regions, residents say they haven't received enough rainfall for the past one year.
No water in forest tanks
Elephants in search of water often stray into villages like Anaikatti, Aliyar, Navamalai, Kadamparai and Chinnarpathi, located near Aliyar dam. Residents attribute the migration to the depletion of water in natural water reservoirs and tanks in the forest.
In places like Anaikatti, forest department officials have built water tanks which they fill regularly for wild animals. While constructing such dams prevented wild animals from straying into human habitations, conservationists are divided on the matter – some are against construction of concrete structures inside the forest, while some others say they are necessary to keep the wild animals away from residential areas.
Shrinking forests
But water crisis may not be the sole reason why animals are leaving the wild and entering human habitations, say conservationists.
P Jeganathan, an ornithologist says wild animals generally avoid human habitations, and migrate to other forests whenever faced with food or water scarcity.
"It is wrong to conclude that forests are turning dry, going by one or two incidents," he said. He, however added that even though birds will migrate faster to safer havens, it is the mammals that are having a difficult time.
Some disagree with Jeganathan's opinion. "The check dams constructed by private estates block the flow of water to forests and that is a major reason why the forest water resources are vanishing," says S Bharathidasan, co-founder, Arulagam, an organisation working towards the conservation of vulture.
"Water is a necessity for birds of prey. If there is no sufficient water, there are chances that the nesting will not happen in that particular year" he added.
Well-known naturalist Mohammed Ali says evolution has taught wildlife to migrate to other places when they do not get the same facilities in their current habitat.
"Due to the large number of development projects, the forest cover is shrinking every year. Adding to that, the carrying capacity of the forests is also on the decline because of the increase in animal population, say that of elephants," he said.
Instead of keeping water bowls for birds, we should take steps towards increasing the forest cover and bridge the man-made barriers between wildlife and people, he says.
Renowned elephant researcher M Ananda Kumar of Nature Conservation Foundation says the rainfall season in Valparai which mostly lasts for seven to eight months, has recently shrunk to four months.
He, however, says scant rainfall isn't the reason why elephants are straying into human habitats. "The region was once a dense forest area frequented by elephants. The British later turned parts of the forest into agricultural land and tea estates. But the elephants never forgot their corridors. Even if they enter human habitats, it is not their fault. Between April and August, the movement of elephants into human habitats are limited and we call it as 'lean period'. This has been the trend for the last 15 years. So, claiming that the elephants are coming to villages in search of water is not logical," he said.