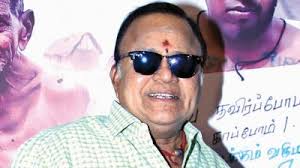 DMK suspends Radha Ravi for derogatory remarks against Nayanthara
Taking serious note of the derogatory comments he made against actress Nayanthara, the DMK, on March 25, suspended actor Radha Ravi from the primary membership of the party.
Stating that actor Radha Ravi has brought disrepute to the party, general secretary K Anbazhagan suspended him from all party positions he was holding including membership of the party.
DMK leader MK Stalin too condemned Radha Ravi for his sexually derogatory speech. "Being a part of the party that stands up for the rights of women, Radha Ravi's comments about women in the cine field is not acceptable and is highly condemnable. Party cadres should put forward their views in a decent manner. Strict action would be initiated, if there violations," Stalin tweeted on Monday morning.
Speaking at the trailer launch Ravi expressed his displeasure over Nayanthara being compared to yesteryear actors M G Ramachandran and Sivaji Ganesan. He further said that comparing her with them is disheartening as they are immortal. Ravi said that he respects Nayanthara for having sustained in the industry for a long time, but later, he spewed derogatory comments on her personal life, which appeared to amuse the audience.
'There have been several reports about her, yet she stands tall.' He then said that the Tamil people's memory is short and that they tend to forget quickly.  He further said that these days actors who play the character of a ghost could also play the role of a goddess (referring to Nayanthara's role as Goddess Sita in a Telugu film), unlike the yesteryears when actors like K R Vijaya, known for their demure roles, were the first choice to portray goddesses in movies.
He said, these days, "paatha udane kumbudravangalayum podalam, paatha udane koopadravangalyum podalam (be it the ones who are respected or the ones with lose morals, anyone can be cast)".
Following the derogatory remarks, there was a huge outrage in the cine fraternity. Actor Vishal, general secretary of artistes' association Nadigar Sangam sent a letter to him condemning his talk, while director Vignesh Shivan, actress Varalaxmi and singer Chinmayi took to their twitter accounts to slam Radha Ravi.