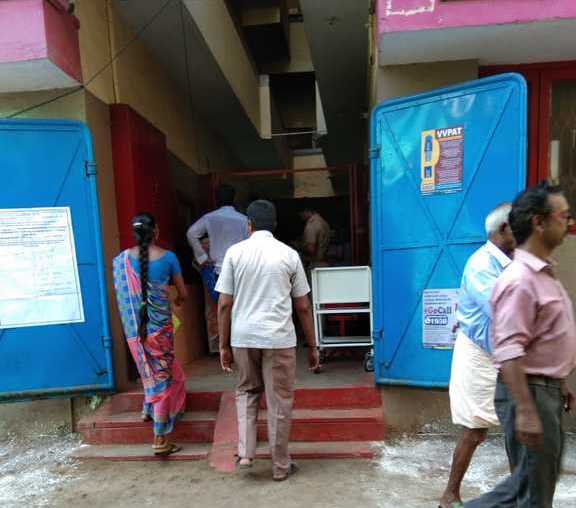 A day after disabled people in the state experienced difficulties at polling stations, despite the claims of the Election Commission to make the polls accessible for them, disability activists on Friday (April 19) demanded the department of the Welfare of the Differently Abled Persons in Tamil Nadu to take immediate action against visible gap between the promises and delivery by the commission.
From ill-built and inadequate ramps, absence of wheelchairs to apathy of police and election officers towards the disabled in the polling booths, a wide range of issues was reported by people with disabilities who turned up to vote across the state.
Talking to The Federal, an activist who was working closely with several departments to ensure a smooth polling process, however, said that the disability welfare department also has to take the blame for the mayhem. "The chief electoral officer had been reaching out to the department, seeking its involvement in the audits (on the arrangements done) and cross validation between departments involved in the polling process. However, that hasn't happened, causing a lot of hardship to people with disabilities," the activist added.
The activist also said that there was no proof to show that the welfare department involved itself wholly in the procedure. "In fact, only in Thiruvallur district the district disability welfare officer and the district electoral officer worked very closely to ensure that there was no inconvenience caused to people with disabilities. Even in Chennai, several polling stations were grossly under-prepared to meet the needs of the disabled," the activist pointed out.
Advertisement
The elections were touted to be barrier free and 100 per cent accessible, specifically aimed at involving people with disabilities. The disabled voters groups covers people with 21 kinds of disabilities recognised in the Rights of Persons with Disabilities Act, 2016.
The activist involved with EC although people with disabilities generally have a hard time during elections, it was more during the current one, as the accessibility aspect of it was not addressed on time.
A feedback form has been created among various disability groups that are ascertaining the degree of problems faced. TMN Deepak of the December 3 Movement, said that the groups will soon meet up and hand over the complaints to the TN CEO involving the welfare department.
The Tamil Nadu Commissioner of the Welfare of Differently Abled Persons, B Maheswari said the department was looking into the complaints received. "We will be getting in touch with the TN CEO after we get the whole list of issues faced in various places. It will be addressed at the earliest," she said.