Tamil Nadu has been put on high alert after intelligence agencies alerted the state police that six Lashkar-e-Taiba (LeT) terrorists have entered Tamil Nadu through Sri Lanka.
According to the alert, the group of LeT terrorists who entered Tamil Nadu through Sri Lanka are presently in Coimbatore.
Sumeet Saran, Commissioner of Police, Coimbatore City: We got information that 6 terrorists have come to Tamil Nadu and they are moving towards Coimbatore. Keeping that in view, we have put a general alert. There is no alarming situation. There is no need to worry about anything. pic.twitter.com/HQj2QZ0zKZ

— ANI (@ANI) August 23, 2019
The group consists of a Pakistan national and five Sri Lankan Tamil Muslims. The intelligence alert also stated that members of the group had disguised themselves as Hindus by wearing tilak on their forehead. One among the six were identified as Illyas Anwar, who is suspected of being a Pakistani.
Following Tamil Nadu, Kerala has also been put on high alert over reported terrorist movements. Kerala Director General of Police Loknath Behra told The Federal that they have beefed up security since morning after receiving the alert from central intelligence agencies.
He said that they have deputed additional police strength in places including temples, airports and railway stations to prevent any untoward incident.
Kerala police have asked the people to report the suspicious movement of people to 0471-2722500, 0471-2556699.
On Thursday night, office of the state's Director General of Police circulated the alert among all city police commissions and district superintendent of police. In view of the threat, patrolling has been beefed up in sensitive areas and combing operations are being conducted by police in areas including Coimbatore and Ramanathapuram district.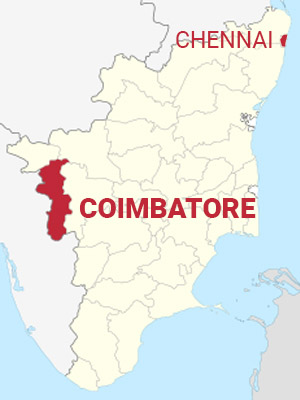 Coimbatore city police commissioner Sumit Sharan confirmed that the city has been put on high alert after receiving information about the movement of terrorists. Sharan said security has been tightened following the alert and quick reaction teams have been deployed in various parts of the city.
He told reporters that they have been tracing them with the available inputs. "We have received a description of the terrorists. Special teams are on the lookout for them in the city," Sharan said.
Apart from vehicles being checked, we have identified a few places in the city, where security has been beefed up, Sharan added. He also asked the people not to panic.
Vehicle checkup is being conducted across the district and an additional strength of 1,500 police personnel have been deployed across the city. Director general of police JK Tripathy will be reaching Coimbatore shortly to take stock of security arrangements made in the city.
On Friday morning, police sources released pictures of the terror suspects. Since it is Krishna Jayanthi on Friday (August 23), armed men have been posted in front of Krishna temples for security.