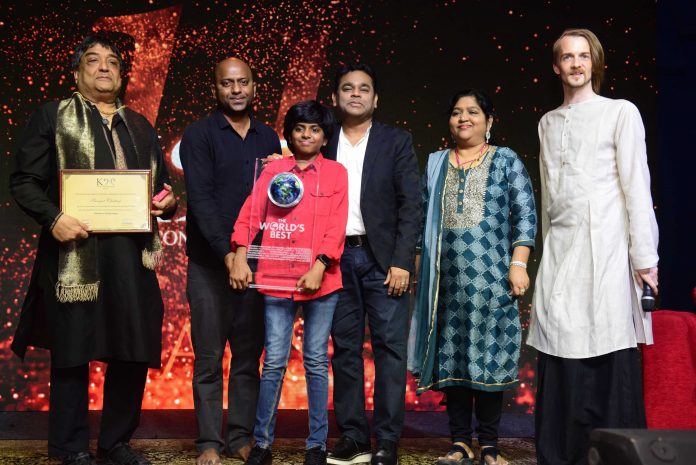 A 13-year-old has been in the news since the beginning of March, after his appearance on widely watched US-based The Ellen DeGeneres show, by playing the piano blindfolded. Ellen tweeted, "Lydian Nadhaswaram is only 13 years old, and he can play Mozart blindfolded. I'm 61 and I can't spell Mozart blindfolded. #WorldsBest."
On Thursday, soon after being declared winner in the US-based multi-genre reality contest 'World's Best' bagging $1 million, Lydian got his ultimate title from none other than his mentor and maestro AR Rahman. Rahman called him the 'musical ambassador of India', as he felicitated him at the KM Music Conservatory, on the sidelines of the institute's 11th anniversary.
The title given by Rahman actually summarises the impact Lydian's victory would have at the global level. After all, India is only the land of Hindustani and Carnatic music in the traditional realms and on the popular front is known for its Bollywood beats. Rahman was particularly excited that the child prodigy's achievement breaks that mould. Responding to a question from The Federal, about the remarkable feat by Lydian, he said, "India is known for Bollywood, the term I hate, but I am glad Lydian has changed it all with this achievement. In fact, his father a musician himself Varshan Sathish is a visionary because when he enrolled Lydian at KM he wanted him to scale greater heights. After Zubin Mehta, it is Lydian who has put Indian on the world map." Not a run of the mill comparison, for Mehta has been reigning superior for over five decades now and is the music director of the Israel Philharmonic Orchestra (IPO) and Conductor Emeritus of the Los Angeles Philharmonic.
Lydian was declared the winner of the first season of 'World's Best' aired on the US broadcasting network CBS, as he vied with 150 other competitors. He battled it out with finalists including a ventriloquist, martial arts acrobatic performer and an acapella group. The judges included a three-member team comprising actress Drew Barrymore, American drag artiste RuPaul and singer Faith Hill, apart from an international panel of 50 experts in different categories of entertainment. The judges watched him in awe when he played Rimsky-Korsakov's The Flight of the Bumblebee at a speed of 280 beats per minute and then raised it to 325 beats. Ask Lydian what the title and the popularity means to him, he remarks with a smile, "It means that I have to work harder."
Trained in drums from the age of two, Lydian intended to learn the table at the music school at the age of eight. But he chose piano and came under the guidance of Surojeet Chatterji, who taught piano in the USA for 25 years before his stint in KMC. Chatterji is proud of his protégé and for a specific reason. "Lydian didn't keep me posted about everything he was doing and I was particular happy when I received the video of his performance through WhatsApp from Herman Makarenko, Ukrainian music conductor, who identified from techniques that he belonged to my school and asked me if he were my student," he said.
As Lydian rises to world fame, there is a lot more similar talent in the offing, says musician Anil Srinivasan, who rues the lack of shows for spotting talent in India. "I feel sad that we do not have such shows in India to promote the talent here. Recently, I did a talent hunt in the state and found 350 odd children, who are as talented as Lydian," he says, adding that the internet world has blurred the lines between West and East. "We have already made it big through the talent we have produced in Saxophone and Guitar. I wish Lydian luck and he joins a good conservatory and becomes a great pianist."
For his family, success of any magnitude has only been unexpected, says his father Sathish, "I noticed that he had a distinct tune even when he cried as a baby and he often tapped his feet in a rhythm. I began to train him in drums. All along, it has been his work and dedication, I never wanted to realise any dream through him." Lydian's sister Amritha Varshini is also a musician and plays the piano. Lydian looks to her for inspiration, along the lines of Rahman and Ilaiyaraja. But Sathish was quite the visionary as Rahman pointed out, for he named the boy after the seven-tone musical scale (Lydian) with a touch of nativity inspired by the wind instrument (Nadhaswaram). Probably, foreseeing his son's success in bridging the West and East with his music.
Homeschooled, Lydian says he is happy concentrating on music in all the extra time he gets. "When I am not practicing Piano (his everyday practice sessions run for six hours), I am playing some other instrument like the harmonica or guitar," he says. Perhaps the invitation to the Jazz Foundation of America's annual gala "A Great Night in Harlem" at the Apollo Theatre in New York on April 4 is only one among the many accolades that are coming his way. For the future, Lydian already has a lot of plans and the one big plan is playing the Moonlight Sonata in the moon.