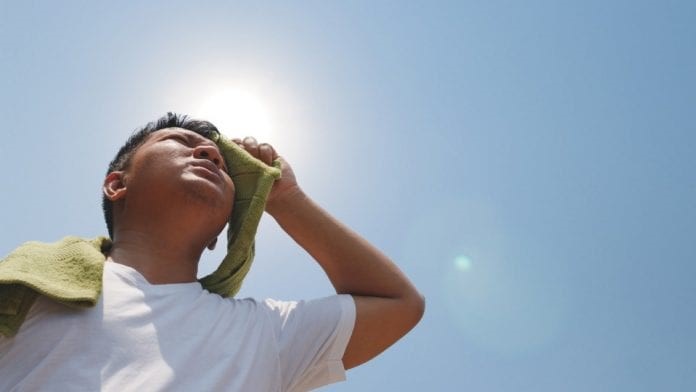 he temperature recorded on Tuesday has been the highest since May 2021. File pic
May 16 was one of the hottest days for Chennai residents this summer, so far. The temperature soared to a record maximum temperature of 42.7 degrees celsius at Meenambakkam, which was 4.3 degrees above the normal, while it was 41.8 degrees, 4.4 degrees above normal in Nungambakkam.
Reports also say it's the highest temperature recorded in Chennai in the last six years.
The city was witnessing this kind of temperature above 40 degrees for the third consecutive day. The temperature recorded on Tuesday has been the highest since May 2021. In May 2020 too, the temperature in Nungambakkam registered 41.8 degrees C and the temperatures continued to register above 40 degrees for three days in a row.
According to weather experts, the temperature shot up in Chennai since on Tuesday, the sea breeze, which helps lower temperatures, set in very late. This has been attributed to urbanisation and emergence of skyscrapers which then allows the sea breeze to reach places as far away from the coast as Meenambakkam after a long time.
According to IMD officials the temperature rise on Tuesday in Chennai was due to a delayed seabreeze which arrived at 2pm. However, they stopped short of calling it a heatwave because the temperatures must be above 4.5 degree celsius continuously for two days to be called a heatwave.
Also read: Among the metros, risk of heat stroke is highest in Chennai
Vellore recorded highest temperature at 42.3 degrees C
In Tamil Nadu state, the maximum temperature ranged from 32 degrees C to 41 degrees C, according to the Indian Meteorological Department, with Vellore recording the highest maximum temperature of 42.3 degrees C. Hill stations Kodaikanal and Uthagamandalam recorded maximum temperatures ranging from 21 degrees C – 27 degrees C.
Places like Tiruttani at 41.8 degrees celsius, Cuddalore at 40 degrees celsius, Madurai airport at 40.8 degrees celsius) and Parangipettai at 40.7 degrees celsius) experienced high temperatures. This heatwave conditions with above normal temperatures are in fact expected in most parts of India till May 31.
Chennai records 37.4 degrees  on May 17
On May 17, in the morning, Chennai recorded a temperature of 37.4 degrees C.
The IMD forecast said that due to humid air and high temperatures, hot and discomfort weather is very likely during the perido from May 16-18, 2023. The maximum temperature is likely to be 2-4 degrees celsius above normal at isolated pockets over Tamil Nadu, Puducherry and Karaikal areas till Thursday, said the IMD bulletin.
Meanwhile, juice and ice-cream shops, coconut water sellers are doing brisk business in Chennai, even as they remain vulnerable to heat stroke symptoms. Many Chennaiites have been flocking to the public swimming pool in Marina Beach, said news reports.