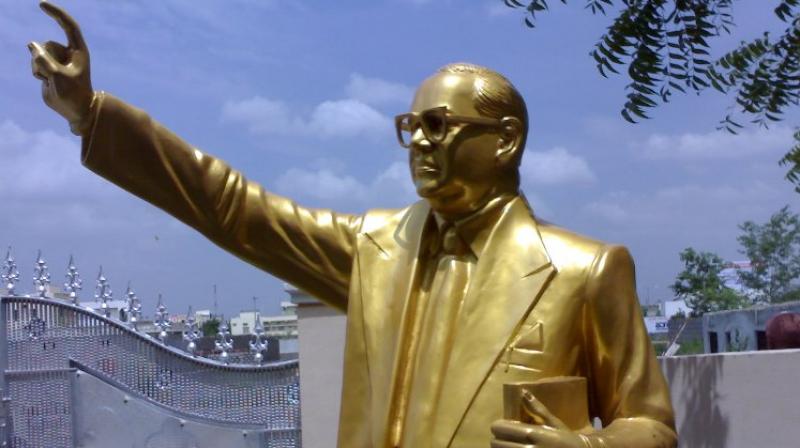 Ambedkar statue vandalised in TN's Nagapattinam over caste-related clash
Tension prevailed in the town of Vedaranyam in Nagapattinam district, Tamil Nadu due to a caste-based clash that led to the beheading and vandalism of a BR Ambedkar statue in front of the Vedaranyam police station on Sunday (August 26) night.
A few dalits in Vedaranyam set fire to a car belonging to Pandiyan, an OBC caste (Mukkulathor) outfit leader, owing to unresolved tensions between the dalits and the Mukkulathor. A few other dalit men got involved in the ruckus with Pandiyan and allegedly attacked him.
After the word spread, caste Hindus thronged the Vedaranyam police station to take action against the dalits who allegedly attacked Pandiyan. Even before the police could take stock of the situation, a mob of caste Hindus entered the city streets and started hurling stones on police vehicles.
An Ambedkar statue which became the next target for the mob, since it was 200 meters from the police station, was vandalised and destroyed it completely.
Speaking to The Federal, a senior official in Nagapattinam said that they have gotten hold of around 50 men, both dalits and caste Hindus. "We are in the process of identifying the person who vandalised the Ambedkar statue and beheaded it. Apart from that, we are also probing the root cause of the violence that broke out on Sunday," the official said.
More than 750 police personnel have been deployed in the town to prevent any untoward incidents.
In Coimbatore, stones were pelted on two government buses, with police suspecting the role of a fringe outfit behind the incident.
The desecration of the Ambedkar statue drew sharp responses from several parties.
"Fascists forces wearing the mask of democratic politics have sown the seeds of poison which result in the desecration of statues of (EVR) Periyar and Dr Ambedkar," DMK President M K Stalin said in a statement.
Stalin, Tamil Nadu Leader of Opposition, demanded that "rioters" should be identified to prevent any such violence
MDMK founder and Rajya Sabha MP Vaiko, CPI (M) state secretary K Balakrishnan and CPI state secretary R Mutharasan also condemned the desecration of the Ambedkar statue in Vedaranyam and demanded action against the culprits.
Condemning the incident, VCK president Thol Thirumavalavan demanded the arrest of the accused involved in the vandalism of the statue under the Goondas Act. He demanded replacement of the statue in the same place and asked all democratic and political forces to protest against this.
Later, officials replaced the damaged statue of Ambedkar with a new one.
PMK Founder Ramadoss took to Twitter to condemn the vandalism of the statue of BR Ambedkar, whose ideas are followed by their party. "In recent days, damaging leaders' statues, including that of Thanthai Periyar statue, has been rampant. By damaging the statue, one cannot belittle the leaders. This should be curbed. Action should be taken against whoever damaged the Ambedkar statue," he tweeted.