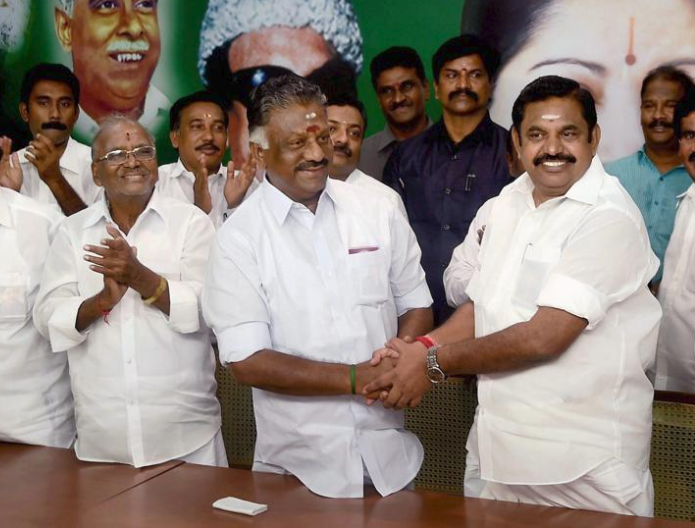 After the drubbing it received in the Lok Sabha polls, an AIADMK MLA has raised the banner of dissent, publicly.
Madurai North representative Rajan Chellappa said on June 8 that it was time for the party to move to a single leadership. He meant that the present power sharing arrangement between Chief Minister Edappadi K Palaniswami and Deputy Chief Minister O Panneerselvam should go and there should be only one top leader. He said dual leadership was delaying decision-making in choosing party functionaries and candidates in elections.
Chellappa said that the debacle in Lok Sabha polls should have been discussed in the party's general body or at a meeting of district functionaries. "As this hasn't happened despite 16 days passing, I am forced to go to media," he said.
It was the same Rajan Chellappa who had earlier asked the party high command to merge TTV Dhinakaran with the AIADMK party. The election results have proved that TTV has little support, so the party could move to a single leadership.
A senior functionary in the party working in the southern region said that the comments of Rajan Chellappa was a part of the process of sidelining of O Panneerselvam. "Even before the election, Edappadi (Chief Minister Edappadi K Palaniswami) had started to sideline the supporters of O Panneerselvam and that is why most of the seats in the southern region were given to allies," he said.
The senior functionary also echoed the voice of Rajan Chellappa that none of the senior functionaries and ministers campaigned for the AIADMK candidates in the southern region. Rajan Chellappa alleged that his son VV Raj Satyen lost the election because of this.
While Chellappa was indirect in his demand, Kunnam MLA RT Ramachandran minced no words by saying OPS was indulging in dynasty politics.
"Party workers are united and there is no major fissures inside the party. But, egos of the two leaders seem to be coming in the way of important decisions," Ramachandran said.
Fisheries minister D Jayakumar and Forest minister C Sreenivasan said that there was no divide inside the parties and everything was fine. But, senior leader and Mettur MLA S Semmalai said that the party high command was taking note of all the comments of the party functionaries and they would work on it. "Everyone has the right to express their opinion and the party high command will discuss it in the coming district functionaries meeting," he said.
O Panneerselvam said that he would comment on it only after knowing what Rajan Chellappa has said. But, Edappadi K Palaniswami said there is no single leader. "All the people in the party are leaders," he said.
Meanwhile, the party's coordinator Panneerselvam and deputy coordinator Palaniswami have called for a meeting of district secretaries and other party functionaries at the party headquarters in Chennai on June 12.