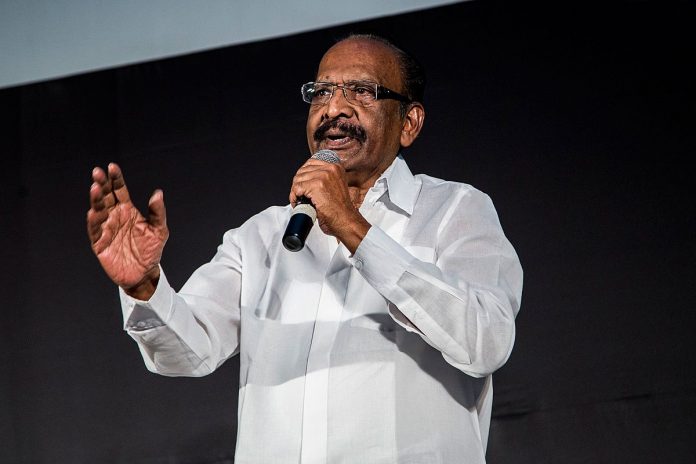 The auditorium of Alagappa government Arts College in Karaikudi reverberated with students' whistle sounds and comments. The students were in such a festive mood, because the then superstar MG Ramachandran, who later went on to become the chief minister of Tamil Nadu, was the chief guest at a function held in the college. It was the time his film 'Nadodi Mannan' had just completed a hundred day run. The year was 1958.
MGR told the college authorities that he would not deliver a speech but would listen to the students' views. The first two speakers were forced out of the stage by the celebratory noise at the venue. Then came Deva Alexander, who went on to criticise the commercial elements used in Tamil cinema like duet songs, dream sequences and unrealistic fight scenes. His speech received a thundering applause. MGR appreciated him and opined that he could become a great film critic. But as fate would have it, Alexander went on to become a film-maker.
Born on July 25, 1939, at Ilayangudi in Sivagangai district, Alexander was actively involved in stage plays during his college days. There he had a friend named Alexander Mahendran, who was a popular sprinter. He came to Chennai to study law, but was forced to discontinue, after nine months, owing to economic conditions. He then worked as a journalist in magazines like 'Inamuzhakkam' and 'Tuglaq' during which time he met MGR again who introduced him to the film industry. Thereafter, he changed his name to Mahendran because of the affection he had for his friend.
Subsequently, MGR asked Mahendran to write the screenplay for "Ponniyin Selvan," the magnum opus of Kalki Krishnamurthy, which MGR wanted to be made into a film. Though the screenplay was completed, for reasons unknown, the project got shelved. MGR then made Mahendran an assistant director in his film 'Kaanchi Thalaivan' (1963).
Though his first attempt at writing a screenplay ran aground, his first bid as a film director, came in the way of 'Mullum Malarum' (Rajinikanth starrer), a novel that was serialised in the magazine 'Kalki', founded by none other than the writer Kalki himself. Johnny' was another Rajinikanth-starrer that was directed by Mahendran.
By virtue of being a writer, Mahendran went on to work as a screenwriter in many films like 'Naam Moovar' (1966), 'Sabash Thambi' (1967), 'Panakkaara Pillai' (1968) and so on. His major breakthrough came in the form of 'Thangappadhakkam' (1974), starring Sivaji Ganesan. Though he wrote the story, it was the dialogue that won him rave reviews.
And when he transformed into a director, he chose to speak through visuals rather than dialogues. He was one of the early directors, who understood the effect of cinema as a visual medium, on account of which he gave a visual form to the works of other writers without diluting the substance.
Of the 38 films he worked for, he directed only 12 of those, out of which five films, namely 'Mullum Malarum',  'Uthirippookkal' (1979), 'Poottaadha Poottukkal' (1980), 'Nandu' (1981) and his last directorial venture 'Sasanam' (2006) were based on the works of prominent litterateurs in Tamil.
He penned the screenplay for the film 'Mogam Muppadhu Varusham' (1976), which was based on the same-titled novel, authored by Manian. It was also serialised in the magazine 'Ananda Vikatan'.
Mahendran went on write novels besides pieces on several topics, which until now have not seen the light of day.
'Mullum Malarum' was a novel written by Poornam Ramachandran — under the pseudonym Uma Chandran. The name "uma" was that of his wife. He was also the brother of well-known actor Poornam Viswanathan. The novel won the Tamil magazine Kalki's silver jubilee novel writing competition and got serialised by the same name for eight months in 1976. Attracted by the plot, Mahendran took two things from the novel, namely that of the hero being a winch operator and his self-respect, blended with anger.
Close on its heels, he wrote the screenplay for "Uthiripookal" which was based on the novel 'Sitrannai', authored Pudumai Pithan.
After giving two back-to-back hits, Mahendran came up with 'Poottaadha Poottukkal', based on short story 'Uravugal' written by Ponneelan. Published in 'Kannadasan' a literary monthly magazine, Ponneelan said it was based on a real-life incident. The story revolves around an extra marital affair for which Mahendran had Smitha Patil and Nasrudeen Shah, in mind, to be cast in the lead roles. However, they couldn't be cast due to production-related reasons. The film flopped at the box office. Later, in his autobiography 'Cinemavum Nanum' (2013) Mahendran opined that he still believed that the film could have been a success had the casting been made as per the original plan.
Mahendran after two hits 'Johnny' and 'Nenjathai Killathey', both released in 1980, came up with 'Nandu' (Tamil for Crab), based on an eponymous novel penned by Sivasankari, published in 1975. But he changed the disease of the hero afflicted with in the novel, from cancer to asthma. Though it did not commercially do well, it received critical acclaim.
His last work, 'Sasanam' was inspired by the short story with the same name, written by Kandharvan, which dealt with adultery. When Mahendran announced the film in 1997, it got much attention. But when the production got delayed, the initial euphoria wore off.
Veteran film maker Maniratnam once said that Mahendran exerted a great influence on him. It is also believed that the late director Balu Mahendra could have been inspired by Mahendran in converting literary works into film scripts. It is pertinent to note that 'Mullum Malarum' was the first Tamil film of Balu Mahendra as a cinematographer.
Later in life, Mahendran planned to make a film based on the novel 'Mogamul', written by Thi. Janakiraman. Even though a movie on the same had already been made by Gnana Rajasekaran, a former IAS officer, in 1994. But Mahendran believed that he could make a better one.
With his demise, the dream of watching "Vanthiya Thevan" of Ponniyin Selvan and more nuanced "Jamuna" of Mogamul on the silver screen, has been lost forever.