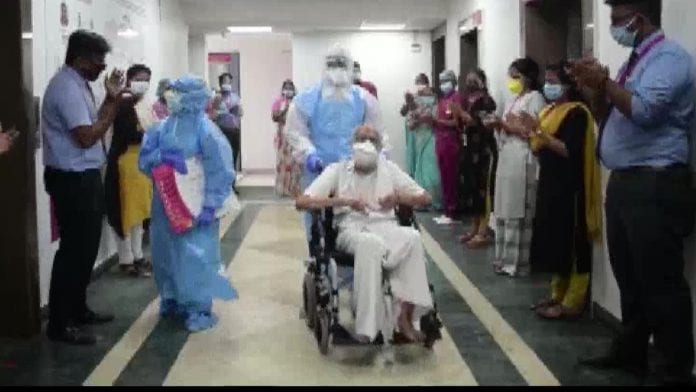 In what came as much needed good news for people amid the coronavirus pandemic, a 97-year-old man has recovered from COVID-19 at a private hospital in Chennai, making him the oldest man in the state to recover from the disease, and the second oldest in the country.
A. Krishna Murti was admitted to the Cauvery Hospital in Chennai on May 30 after testing positive for COVID-19.
Dr Vijayalakshmi Balakrishnan, Senior Infectious Diseases Specialist at Cauvery Hospital, told The New Indian Express that the patient had shown symptoms of fever, cough, and breathlessness when he was admitted, and had pneumonia and mild hypoxia.
Advertisement
"He also had slight hypertension and was on medication for coronary heart diseases. He had slight breathlessness, which however improved very quickly after treatment,'' The New Indian Express quoted her as saying.
She added that he had also been slightly deaf, but that had not been an issue.
The doctor said they had not used any experimental drug on him. "We only gave him supportive treatment and he showed good improvement,'' she asserted.
A statement issued by the hospital noted that Krishna Murti did not eat much in the beginning, but showed significant improvement in food intake later and was able to do it on his own without any support after a point.
The doctor also said in the statement that she wanted to inform people not to lose hope. She urged people to stay positive, safe, and not be afraid, and that confidence was key in the Murti's recovery.
A 95-year-old woman from Dindigul too had recovered from COVID-19 in April after being treated at the Government Medical College Hospital in Karur. She too had suffered due to comorbidities, but responded well to treatment. She is the oldest survivor in the state so far.
Earlier, a 106-year-old man from Delhi had successfully recovered from the virus infection. He is considered the oldest COVID-19 survivor in the world.