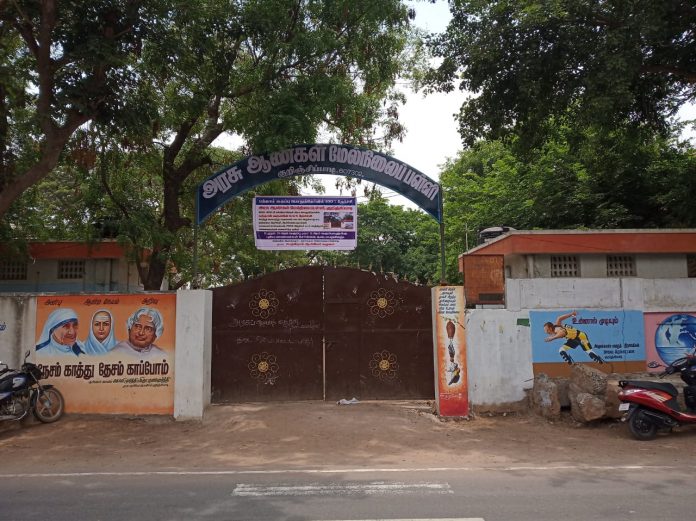 Cuddalore, among the economically weaker districts of Tamil Nadu, is walking up the learning curve.
The coastal district, where subsistence struggles of citizens push education to the fringes, has registered an 86.69 per cent pass in the class 12 results for 2019. It was but reported that around 61 of the 101 government schools got 'results below average.' In the SSLC examinations, the district managed a 92.86 per cent pass.
The government school in Kurinjipadi taluk has a special reason to celebrate. For the first time in 66 years, the school managed to achieve 100 per cent results in SSLC this year. Started as a district board, co-ed school in 1953, it initially had up to class X. In 1985, it was upgraded to a higher secondary school. In 2010, separate sections were started for boys and girls. It now has 24 teachers and 510 students.
Advertisement
"In 2012-13, the school registered only 28 per cent pass in SSLC. With the hard work put in by both students and teachers, we could achieve 100 per cent this year," says T Kanagasabai, headmaster of the school. It is to be noted that even before the bifurcation, the school did not achieve cent percentage results in SSLC.
It was a steady progress for the school. In 2013-14, it got 66 per cent; 2014-15, 75 per cent; 2015-16, 71 per cent; in 2016-17, 83 per cent; and in 2017-18, 86 per cent. This academic year, 63 students wrote the exams in total. "There are some government aided and private schools nearby. Most of the students who don't get seats there, come here. The parents of most students are illiterate. Their families do menial jobs and find it difficult make ends meet. So, education and sending children to school are not a priority. The teachers often had to take up some parenting responsibilities too," Kanagasabai, who took charge two years ago, said.
Teachers like P Kumaravel, who handles Science, went the extra mile. Teachers and students said he would turn up at a student's house if someone didn't come to school for a day. If a student fell ill, he would take him to a nearby hospital, they said.
"It's not only me. All the teachers in the school take care and provide special attention to each and every student. We used to take special classes before the regular school hours, say from 7 am. Many students come to class on empty stomachs. We teachers get food for them. And in the evening, we provide tea and snacks. We even took classes on Sundays and students attended the classes with such enthusiasm," he says.
The best mark in the school was 380 of 500. Though the school achieved 100 per cent, many students would discontinue their studies to pursue some work.
"Around 80 per cent of the students will not join the school for class XI. Since they need to support their families, most of them will join ITIs or pursue diploma courses. We have asked good samaritans to guide and help the students join such institutions," says Kumaravel.
The school's relatively weak show in class XII is due to the lack of teachers. "The main challenge we face is to inculcate life discipline in students. Vacancies lie unfilled and there are no teachers for various subjects. If we are able to address that issue, we will secure at least a 90 per cent pass in class XII next year," says Kanagasabai.