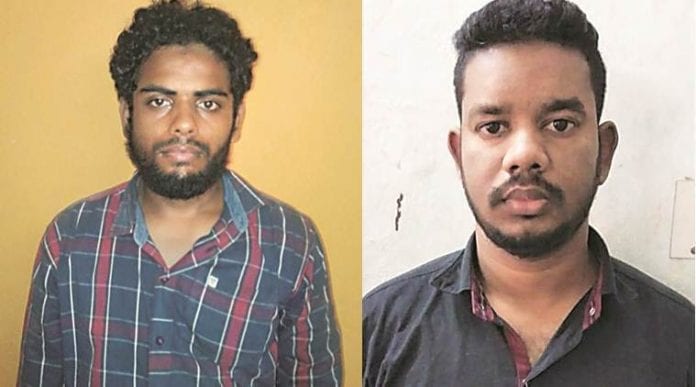 Two accused arrested in connection with the murder of a policeman in Tamil Nadu's Kanyakumari district were on Friday (January 17) booked under the Unlawful Activities (Prevention) Act.
Abdul Shameem, 32, and Thoufiq, 28, on January 14 were arrested at Udupi Railway Station during a joint operation by Tamil Nadu's Q branch police, Kanyakumari district police and Karnataka's Udupi police on January 14.
Tamil Nadu police took the accused in custody from their Karnataka counterparts and questioned them until Thursday night. They were produced before a magistrate court in Tamil Nadu on Friday and were remanded under judicial custody till January 20. After grilling them for hours, they found out the two men were part of a terror outfit.
After producing the two accused before the magistrate, Kanyakumari police booked them under section 13 (unlawful activities), 18 (conspires or attempts to commit, or advocates, abets, advises or incites or knowingly facilitates the commission of, a terrorist act) and 20 (member of a terrorist gang or a terrorist organisation) of UAPA, besides other sections of the IPC and the Arms Act.
Also read | NIA raids premises of another youth in Coimbatore
Kanyakumari police are likely to file a petition before the session's court on Monday seeking their custody for further investigation. However, police are yet to decide on the number of days they would seek for the custody of the accused.
According to police, the attack on the special sub-inspector was to teach a lesson to the police department and the administration, and avenge the arrest of a co-accused, who was held with arms and ammunition. As per the confessions of the two, they selected the Kaliyakkavilai market check-post since they were familiar with the area.
However, sources in the Q Branch told The Federal that the two accused took revenge on Kanyakumari police not just because they were familiar with the area, but also because they were angry with them.
Also read | ISIS hunt: TN Q-Branch spots 3 Sri Lankans in Chennai upscale apartment, interrogation on
"Even as their accomplices were arrested in New Delhi and Bangalore, Tamil Nadu Q Branch police constantly visited houses of Abdul Shameem and Thoufiq for investigation into the alleged IS-inspired terror module functioning across South India. This also triggered them to take on the Kanyakumari police," sources said.
With UAPA charges now slapped against the duo, the National Investigation Agency (NIA) is likely to take up the case and crack down on the IS-inspired terror module functioning in south India. Sources privy to NIA investigations confirmed the NIA have had a tip about the terror module functioning in the southern part of the country after the Sri Lanka Easter blast.
Meanwhile, the Q branch police are also on the lookout for Syed Ali, an expert in making an electronic circuit and a native of Kanyakumari district, for his alleged links with the terror module.