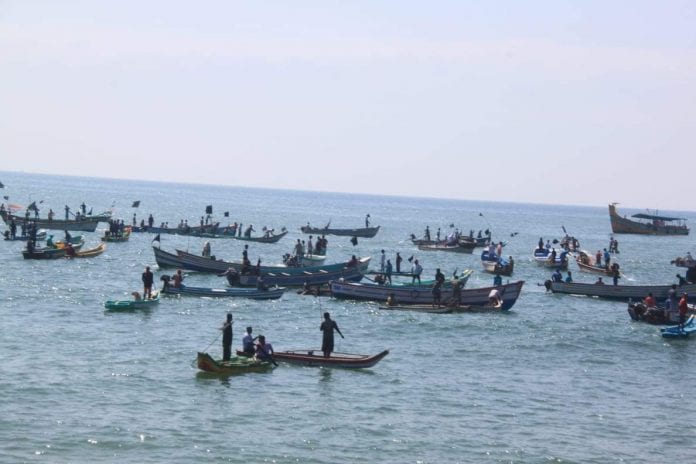 Fishermen in Puducherry took to the sea on Friday (June 26) and put up black flags in their boats as a sign of protest against Lieutenant Governor Kiran Bedi's order to not provide ex-gratia for fishermen during the ban against fishing.
The fishermen, who accused Bedi of "working against the welfare of fishermen" by dismissing the schemes announced for fishermen, sought a compensation of Rs 7,500 to be provided immediately for those who engaged in fishing, and an amount of Rs 10,000 for the women who were in charge of fish sales.
At least 18 fishermen villages, comprising thousands of people, took part in the protests using more than 500 boats on Friday morning. They also raised slogans against Bedi, and policemen were assigned to stand on guard on the shore to deal with any issues that came up.
Advertisement
The protests were, however, withdrawn later.
During the period when fishermen were banned from fishing in the sea for various reasons, 23,000 fishermen reportedly used to receive a compensation of Rs 5,500 per head. However, the number of fishermen who received these benefits was reduced last year to 19,500 from 23,000.
These fishermen wrote to Lieutenant Governor Bedi seeking this year's compensation. However, Bedi rejected it saying senior citizens who receive pension should not be getting compensation for fishing.
"Furthermore, a tally of senior citizens who receive pension and those who receive compensation for fishing, and whether they are still alive should be taken into account and surveyed. The list of beneficiaries should be finalised and the Treasuries and Accounts Department should then be notified," the Lieutenant Governor said.
The fishermen had taken to protests following this announcement.