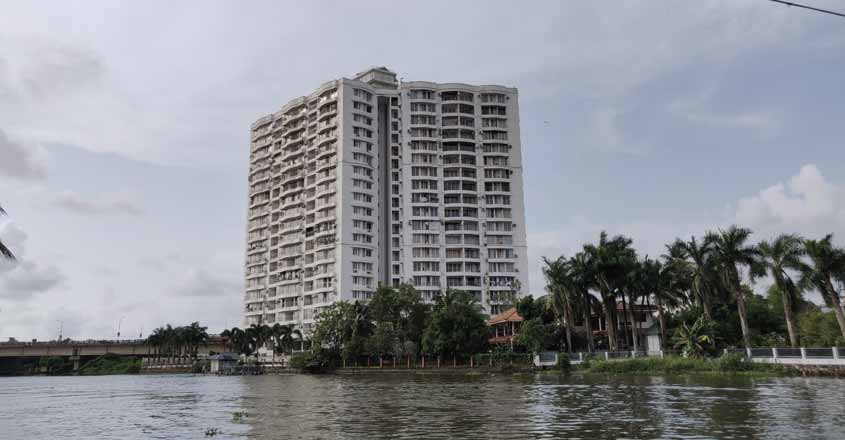 The demolition of flats at Maradu in Kerala's Kochi district will be carried out by two firms on Monday (October 14).
According to sources, separate tenders will be floated for debris management once the demolition is completed.
The Supreme Court had recently directed the Kerala government to demolish four apartment structures at Maradu which violated Coastal Regulation Zone (CRZ) norms.
Also read: Guinness record holder to help Kerala govt demolish illegal Maradu flats 
Snehil Kumar Singh, Fort Kochi sub-collector and in-charge of the process, is scheduled to meet the residents of the apartment complexes on October 13 and 14 to hear their concerns regarding the demolition.
A technical committee of 10 people including six engineers was formed to discuss the demolition. The committee on October 5, shortlisted two firms – Edifice Engineering and Vijay Steels – for the demolition process. Holy Faith H20, Jain Housing, and Golden Kayaloram flats will be handed over to Edifice while Alpha Serene, which has two towers, will be handed over to Vijay Steels for demolition.
The two companies have been instructed to submit a detailed blueprint of the demolition to the state government within 15 days.
According to a report in The Hindu, Ms Nadeera, the chairperson of the Maradu municipality has assured those living close to the apartment complexes that they need not stay away from their houses during the demolition as the process will be completed within a few hours. She said government authorities have also assured locals that there will be no threat to their safety and security during the demolition.
Also read: 140 Maradu evictees lack valid ownership records, say reports 
The state government earlier had appointed Guinness record holder and veteran engineer B Sarwate to look into the demolition process. He also inspected the flats and the residing areas on Friday (October 11). As per the Supreme Court's deadline, the flats will be demolished by January 9.
The Supreme Court had ordered the demolition of the four apartments — H2O Holy Faith, Alpha Serene, Golden Kayaloram and Jain Cove — on May 8, 2019, for violating CRZ norms. The top court had also directed the Kerala government to pay ₹25 lakh interim compensation to each flat owner within four weeks.