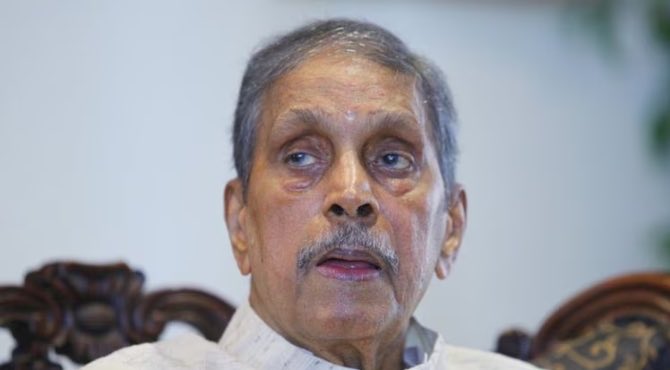 Noted Malayalam film producer Achani Ravi dies at 90; CM Vijayan condoles demise
Veteran award-winning Malayalam movie producer and industrialist K Ravindranathan Nair, who produced several classic and art house movies, died following age-related ailments, family sources said. He was 90.
Popularly known as Achani Ravi in movie circles, Nair was the producer of iconic films directed by legendary filmmakers including Adoor Gopalakrishnan, G Aravindan, P Bhaskaran, A Vincent and so on.
Also read: Noted Malayalam cine and theatre artiste Poojapura Ravi dies at 83
An advocate of the new wave movement in Malayalam films, he was also a recipient of the national and state awards multiple times. After taking over the family cashew business following the death of his father, Ravi, a hardcore movie fan, established a production banner under the name "General Pictures" in 1967, which played a significant role in the Malayalam cinema in the later decades.
Sathyan-starrer "Anweshichu Kandethiyilla" was the first film that came out under his illustrious movie banner. During 1970s and 80s, Ravi laid a mark in the industry by producing a series of critically acclaimed movies.
The innovative film, "Achani" released in 1973, earned him the well-established moniker. "Kanchana Sita", "Kummatty", "Esthappan", "Thampu", "Vidheyan" and so on were among the classic movies produced by Ravi's General Pictures.
Also read: Kerala Crime Files review: Malayalam web series stands out for attention to detail
Besides national and state awards, Ravi was also a recipient of the prestigious JC Daniel Award instituted by the Kerala government. Apart from being a film producer, he was also a known businessman in cashew industry.
Chief Minister Pinarayi Vijayan and Leader of Opposition in the state Assembly VD Satheesan were among those who condoled his death. Hailing the contributions of Ravi in the arthouse movie sector, Vijayan said he was a person who made significant interventions to raise the standards of the Malayalam cinema at a time when no one was ready to invest money for critically acclaimed movies.
(With agency inputs)