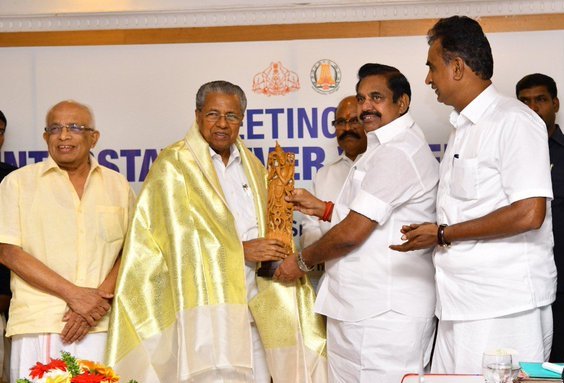 Tamil Nadu Chief Minister Edappadi K Palaniswami and his Kerala counterpart Pinarayi Vijayan on Wednesday (September 25) held a meeting in Thiruvananthapuram to discuss water sharing issues between the states.
This is the first meeting between the two chief ministers of the states in fifteen years. The last time the two states discussed this matter was in 2004 when the then Tamil Nadu CM J Jayalalitha and Kerala Chief Minister Oommen Chandy met.
Addressing a press conference after the meeting, Vijayan said that the Parambikulam-Aliyar Treaty had to be reviewed. The Mullaperiyar water issue has also been taken up during the discussion. To resolve these issues, a 10-member panel will be formed consisting of five members each from Kerala and Tamil Nadu, he said. The CPI(M) leader said that chief secretaries of both the states will meet in the next six months to review the developments of the same.
"Both the states are concerned about the water-related issues, we should not fight upon water but should find a solution for it," said Vijayan.
மாண்புமிகு தமிழ்நாடு முதலமைச்சர் திரு.எடப்பாடி கே.பழனிசாமி அவர்கள் இன்று (25.09.2019) திருவனந்தபுரத்தில் மாண்புமிகு கேரளா முதல்வர் @CMOKerala அவர்களுடன் "தமிழகம் – கேரளா இடையேயான பல்வேறு நதிநீர் பங்கீடு திட்டங்கள்" குறித்து பேச்சுவார்த்தை நடத்தினார். #TNGovt pic.twitter.com/8E7ubPBw9m

— Edappadi K Palaniswami (@CMOTamilNadu) September 25, 2019
Meanwhile, Tamil Nadu chief minister Edappadi K Palaniswami said that the meeting aimed at sharing of water between the states proportionately.
"Issues related to the Parambikulam-Aliyar Project will be sorted out soon based on the findings of the ten-member committee that had already been constituted. The panel will study the issues concerning the Pandiyar-Punnampuzha project and will implement it," he said.