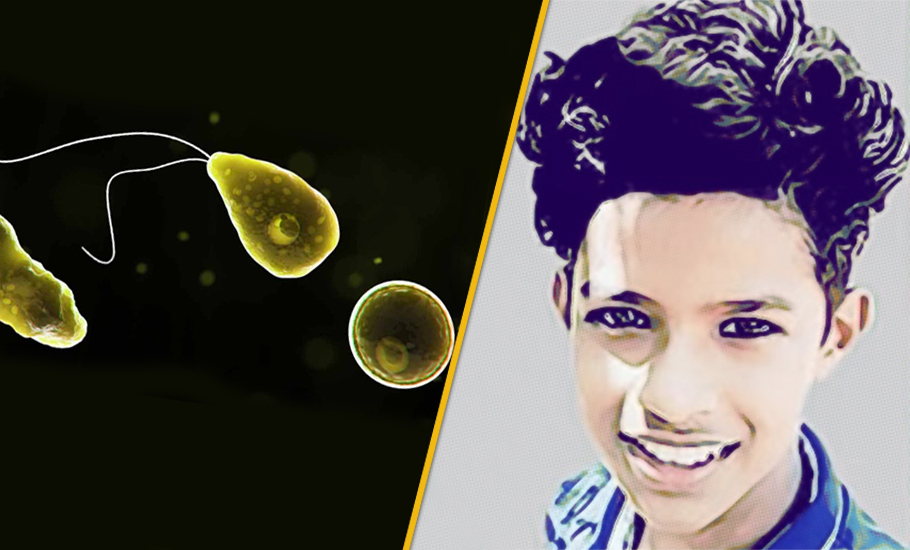 Kerala teen dies of brain fever after a swim. Know all about the rare disease
A 15-year-old teen died of a rare brain infection in Kerala's Alappuzha district. The infection was caused by free-living amoebae (which is also known 'brain-eating amoeba') living in contaminated waters, said state health minister Veena George on Friday (July 7).
The teenager, a native of nearby Panavalli in Alappuzha district was infected with the brain disease called primary amoebic meningoencephalitis or PAM.
Confirming the boy's death, the minister said five such cases of the rare infection had been reported in the state before. The first was in 2016, and others later in the years of 2019, 2020 and 2022, she told reporters in Thiruvananthapuram.
The main symptoms of the disease are fever, headache, vomiting, and seizures. "All the infected patients had died," George said.
Doctors said the human brain gets infected when the free-living, non-parasitic amoeba bacteria enter the body through the nose. Considering the severe nature of the disease, the district health officials have advised people to avoid taking baths in contaminated water.
In October 2022, a young boy died in the US, after being infected by this amoeba which he may have been exposed to while swimming at Lake Mead. And, in December 2022, South Korea reported its first case of Naegleria fowleri or 'brain-eating amoeba', when a 55-year-old man, who seemed to have contracted it in Thailand died of the disease in his home country.
The brain-eating amoeba infection was first reported in the US in 1937. As of 2018, 381 Naegleria fowleri cases had been reported worldwide. They came from the US, India, and Thailand.
The US has reported most infections — 154 — from 1962 through 2021. According to the US Centers for Disease Control and Prevention, only four people have survived the disease, which puts the death rate to over 97 per cent.
Also read: South Korea reports first case of 'brain-eating amoeba' infection and death
What is primary amoebic meningoencephalitis? 
Primary amoebic meningoencephalitis is a rare brain infection that is caused by Naegleria fowleri and is usually fatal. Naegleria fowleri is a free-living amoeba (a single-celled living organism that is too small to be seen without a microscope).
Amoebic meningitis occurs only if water containing active amoebae travels up the nose. The amoebae can then make their way up the nerves to the brain. It can't cause infection if swallowed and does not spread from person to person.
Where is the amoeba likely to be found?
According to the US Centres for Disease Control and Prevention (CDC), Naegleria fowleri is found in warm fresh water, such as lakes and rivers, geothermal (naturally hot) water such as hot springs, warm water discharge from industrial or power plants, untreated geothermal (naturally hot) drinking water sources, swimming pools, splash pads, surf parks, or other recreational venues that are poorly maintained or minimally chlorinated.
Tap water, water heaters and soil can also house the amoeba. However, Naegleria fowleri does not live in salt water, like the ocean.
Although most Naegleria infections occur after people swim or submerge their heads underwater, PAM may also occur when people cleanse their noses during religious practices or irrigate their sinuses (sending water up the nose) using contaminated tap water.
Symptoms of the disease
At stage one, there is a severe frontal headache, fever, nausea and vomiting. In the second stage, the patient gets a stiff neck, seizures, altered mental status, hallucinations and then coma. The disease is very often fatal.
The treatment for the disease
Primary amebic meningoencephalitis or PAM is treated with a combination of drugs, often including amphotericin B, azithromycin, fluconazole, rifampin, miltefosine, and dexamethasone. These drugs are used because they are thought to be effective against Naegleria fowleri and have been used to treat the few patients who have survived.
Some measures to avoid the brain eating amoeba
Since it enters the brain through the nasal cavity, diving or jumping into the water poses the greatest risk. So doctors advised people to avoid getting water up the nose. They advise using nose plugs or not to do diving that pushes water up the nose, said news reports.
(With input from agencies)