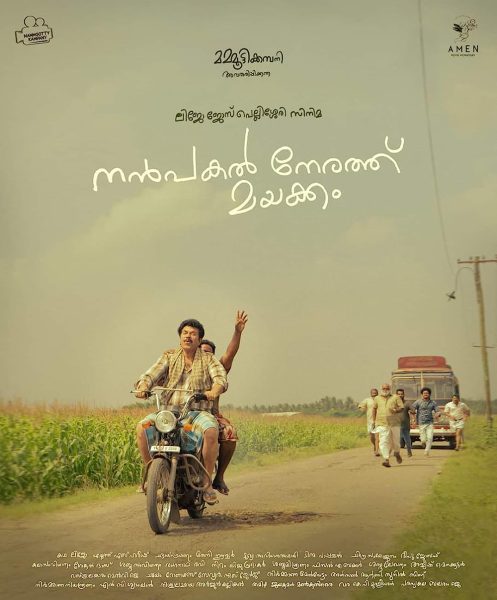 Kerala State Film Awards: Mammootty bags best actor award, Vincy best actress
The 53rd Kerala State Film Awards were declared on Friday (July 21), with superstar Mammootty winning the Best Actor title and young artist Vincy Aloshious named Best Actress.
'Nna, Thaan Case Kodu', a satirical movie directed by Ratheesh Balakrishnan Poduval that wooed audiences across categories last year, garnered several prominent titles, including Best Popular Movie with artistic value.
Also Read: Nanpakal Nerathu Mayakkam is Lijo's vision and magic: Film's writer Hareesh
Announcing the awards here, State Cultural Affairs Minister Saji Cheriyan said as many as 154 films were considered by the jury headed by eminent Bengali filmmaker-actor Gautam Ghosh.
Of them, 44 movies were selected for the final round to compete for various titles, he said.
"Among all the movies, 19 were by debutant filmmakers," he said.
The amusing performance showcased in the Lijo Jose Pellissery-directed Nanpakal Nerathu Mayakkam, which was also named the Best Film, helped Mammootty win the state honour again after an interval of a few years.
Aloshious, who has some notable movies to her credit, got her maiden state award for the movie Rekha.
Well-known filmmaker Mahesh Narayanan lifted the Best Director title for his latest movie 'Ariyippu'.
The Jijo Antony-helmed 'Adithattu' clinched the honour for the Best Second Film, the minister said.
Remarkable acting performances showcased by Kunchacko Boban and Alencier Ley Lopez in the movies 'Nna, Thaan Case Kodu' and 'Appan' respectively earned them the Jury's Special Mention.
Also Read: Malayalam actor Vinayakan's house attacked for abusing Oommen Chandy
Devi Varma and P P Kunjikrishnan were awarded Best Character Artists for 'Saudi Vellakka' and 'Nna, Thaan Case Kodu' respectively, he said.
While Shahi Kabeer was named Best Debutant Director for 'Ela Veezha Poonchira', Ratheesh Balakrishnan Poduval bagged the Best Screenwriter title for 'Nna, Thaan Case Kodu'.
Industry veterans M Jayachandran and Rafeeq Ahammed became the Best Music Director and Lyricist respectively.
Mridula Warrier and Kapil Kapilan won Best Playback Singer awards in the female and male categories respectively for their rendition in the movies 'Pathonpatham Noottandu' and 'Pallotty 90's Kid's.
Shruthi Saranyam bagged the honour in the Woman-Transgender category for the movie B 32 muthal 44 vare.
Pallotty 90's Kids was awarded the Best Children's Film.
The minister announced the awards at a chamber in the state secretariat here in the presence of Kerala Chalachitra Academy Chairman Renjith, jury chairman Gautam Ghosh and other panel members.
(With agency inputs)