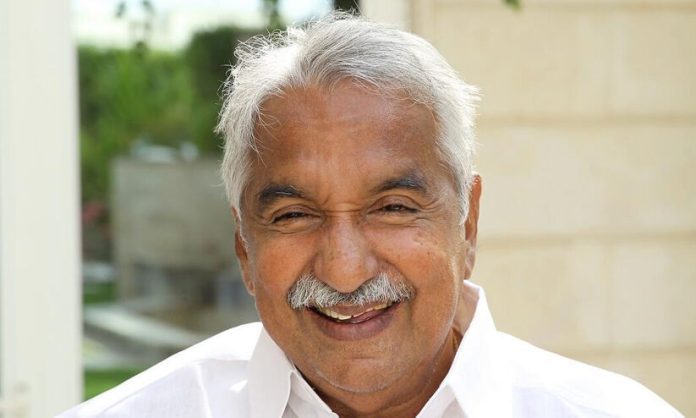 The Kerala government on Tuesday set up a medical board to monitor the health of Congress leader and former Chief Minister Oommen Chandy, who has been admitted to a hospital with high fever.
The Health Department said in a statement that a six-member board comprising medical experts from various disciplines would review Chandy's condition and treatment.
They will interact with the doctors of the private hospital where he is admitted.
The decision came hours after Health Minister Veena George visited Chandy at the hospital in Neyyattinkara on the instruction of Chief Minister Pinarayi Vijayan.
Minister briefs CM
Veena George then briefed Vijayan about Chandy, who has been diagnosed with pneumonia.
Meanwhile, Chandy's son Chandy Oommen said in a Facebook post that his "father is stable in hospital and will remain there till he recovers".
On Monday, he said that his father was admitted after being "diagnosed with a slight case of pneumonia".
Some relatives of the 70-year-old leader, who was twice Chief Minister of Kerala, alleged that the veteran political leader was being denied proper medical care by close family members.
Chandy video
But Oommen Chandy posted a video on his son's Facebook page, saying he was being properly taken care of by his family and the Congress party.
"I have no complaints about the treatment I get… My family and party have provided me with better medical care. I have got expert (doctors) treatment without any fail. I am fully satisfied," he was heard saying in the video posted on Sunday evening.
Chandy's close relatives, including his younger brother, had earlier sent a letter to Chief Minister Vijayan pleading for his urgent intervention to provide better treatment for his predecessor.
The Congress veteran has not been keeping well since 2019. He was taken to Germany a few months ago after his throat-related ailment aggravated.
Chandy represents Puthuppally constituency in the Kerala Assembly.
(With Agency inputs)