The all-party meeting headed by Kerala chief minister Pinarayi Vijayan on Tuesday (September 17) decided on a slew of measures to avoid the demolition of the Maradu flats near Kochi.
As part of its efforts, it was decided to send a three-member team consisting of K Gopalakrishna Bhat (secretary, local self-government), Mohammed Sarifulla (district collector), Subhash PK (chief municipal officer) to New Delhi for discussions and continued legal procedures. The state government also said that they will take up this matter to the attorney general, KK Venugopal.
Opposition leader, Ramesh Chennithala said that the builders should take responsibility and give compensation to the residents. CPI MLA Kanam Rajendran said that SC's decision should be taken into consideration.
In May, the Supreme Court had directed demolition of five apartment complexes, built violating Coastal Regulation Zone norms.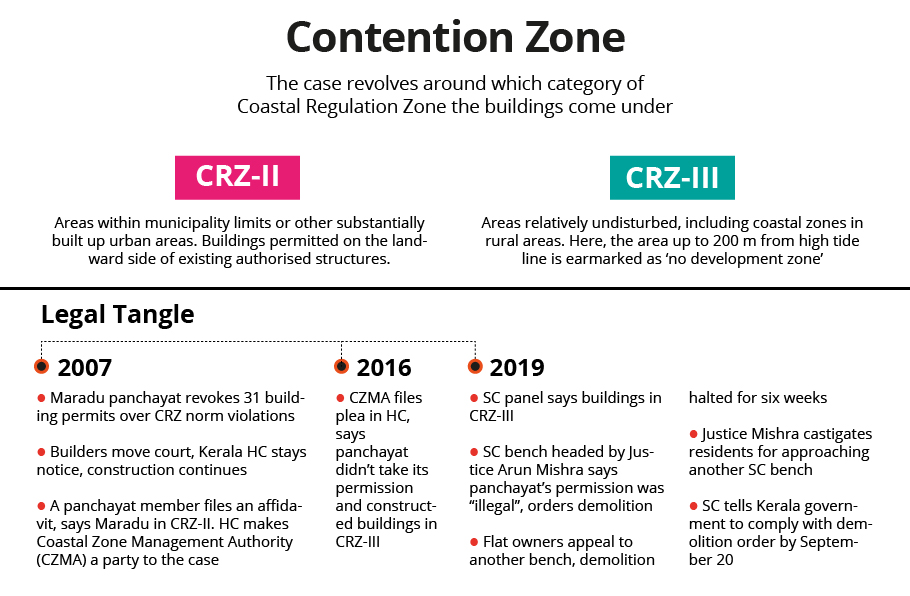 Also read: Maradu flat demolition order in Kerala leaves residents in the lurch
Earlier in the day, former Kerala chief minister and veteran CPI(M) leader VS Achuthanandan backing the Supreme Court order said, "It is the builders' ploy to regularise violations through courts. Flats were given for free to prominent people and they were used to trap the others. Helping such people is equivalent to supporting corruption."