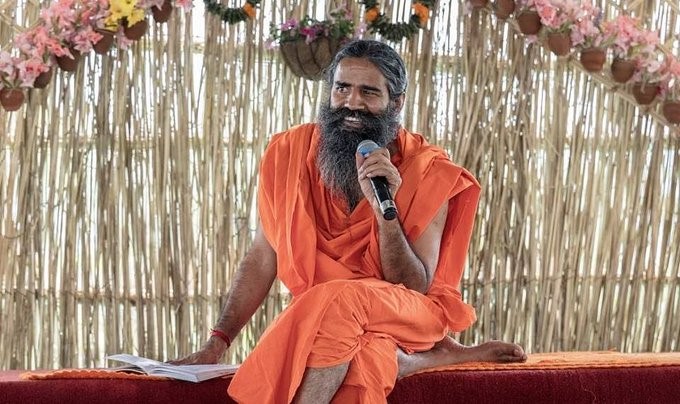 Divya Pharmacy, which is promoted by Baba Ramdev (in pic) and manufactures Patanjali products, had been advertising drugs like BPgrit, Madhugrit, Thyrogrit, Lipidom, and Eyegrit Gold tablets, which claim to offer cure for high blood pressure, diabetes, goitre, glaucoma, and high cholesterol.
The Drugs and Magic Remedies (Objectionable Advertisements) Act, 1954, aims to protect the public from false or misleading claims regarding the efficacy of drugs in treating or preventing certain maladies. It prohibits the advertisement of remedies alleged to possess magic qualities and provides for matters connected therewith.
There are 54 diseases and ailments listed under this act which a drug may not purport to prevent or cure or make claims to prevent or cure. This list includes glaucoma, heart diseases, high/low blood pressure, diabetes, goitre etc.
Divya Pharmacy, which is promoted by Baba Ramdev and manufactures Patanjali products, had been advertising drugs like BPgrit, Madhugrit, Thyrogrit, Lipidom, and Eyegrit Gold tablets, which claim to offer cure for high blood pressure, diabetes, goitre, glaucoma, and high cholesterol. Until a string of complaints reached various levels of enforcement, pointing out the blatant violation of this act.
Multiple instances of misleading ads
It took more than 100 RTI requests and complaints for Dr Babu KV, a Kannur-based ophthalmologist and health activist, to stop the unlawful drug promotion by Divya Pharmacy. "It has been almost a year since the Divya Pharmacy informed me that they have stopped advertising the drugs. But no further actions have been initiated by the Uttarakhand state government where the pharmacy has obtained the manufacturing license," Babu told The Federal.
Despite the Ministry for Ayurveda, Unani, Siddha, and Homeopathy (AYUSH) identifying multiple instances of misleading advertisements, Ramdev's Divya Pharmacy remains unscathed, said Babu, who relentlessly followed up the false advertisements of the company until they took those down.
"Fifteen instances of misleading advertisements against Madhugrit, 10 instances against Eyegrit gold, 3 against Tyrogrit, 18 against BP Grit, and 7 against Lipidom have been reported by respective peripheral pharmacovigilance centres during the past eight months.
Also read: Supreme Court pulls up Baba Ramdev for his remarks against allopathy
Simultaneously, these communications were sent to respective state licensing authorities by the peripheral pharmacovigilance centres to initiate suitable action," Union Minister for AYUSH Sarbananda Sonowal stated in his answer to a question by the Kerala MP V Sivadasan in the Rajya Sabha. "In 2022, Ministry of AYUSH had forwarded advertisements of Divya Madhugrit, Divya Lipidom, Divya Eyegrit Gold and Divya BPgrit, to Ayurveda and Unani Services, Uttarakhand, to examine the matter for withdrawal of advertisements," the Minister added.
In November 2022, the Uttarakhand Ayurveda and Unani Licensing Authority had ordered Divya Pharmacy, the manufacturer of Patanjali products, to halt the production of five medications (BPgrit, Madhugrit, Thyrogrit, Lipidom, and Eyegrit Gold tablets) that were falsely advertised as treatments for high blood pressure, diabetes, goitre, glaucoma, and high cholesterol only to be revoked in a couple of days' time as the company appealed to the authorities, stating that they should have been heard before taking such a decision.
Babu filed a complaint with the Drugs Controller of India in February 2022 about Divya Pharmacy's advertisement in The Hindu for Lipidom, an anti-cholesterol medication that claimed it could lower cholesterol levels in a week. This was subsequently forwarded to the AYUSH ministry. Babu followed it up with the state licensing authority of Uttarakhand, which had issued the licence.
"It was in March 2018 that I first noticed an advertisement of an eye drop on Twitter. The drug, which claimed to be effective in the treatment of glaucoma, cataract, double vision, colour vision, retinitis, pigmentosa, night blindness, etc, was manufactured by Divya Pharmacy under Patanjali Ayurved Limited. It was evident that the advertisements were a sham as a single drug offered cure for multiple ailments. Around this period, two patients who had been trying these ayurveda products for glaucoma came to consult with me. Both of them were in an advanced stage, and had almost lost their vision. This is when I realised how big the impact of those advertisements. It is a huge public health issue," said Babu, who specialises in ophthalmology.
Ads stopped after January 2
Following the complaint, the Ministry of AYUSH advised some states to take the necessary legal action against Divya Pharmacy for promoting goods that falsely claimed to treat diabetes, heart disease, and liver conditions. The Drugs and Magic Remedies (Objectionable Advertisement) Act, 1954 and Rules, 1955, and the Drugs and Cosmetics Act, 1940, were allegedly violated by three advertisements that the Patanjali groups had published. But nothing happened after the company stopped publishing the advertisements.
Also read: Licensing authority lifts ban on Ramdev's Patanjali drugs within 3 days
"Why was Divya Pharmacy allowed to contravene Magic Remedies Act for any number of times after the written commitment on May 7 to the State Licensing Authority of Uttarakhand? Why were the governments not acting on my repeated communications? Who all allowed them to contravene drug laws after May 2022?" asked Babu.
"Fifty-three FIRs should have been filed, and an investigation was supposed to have been carried out, according to normal legal procedure. The Uttarakhand government refused to answer my RTI query, stating that it was sub judice. In fact, the rule 170 of the Drugs and Cosmetics Act, 1945 — which was inserted in 2018, prohibiting the advertisement of Ayurvedic, Siddha and Unani drugs — is being challenged in a Mumbai court, but it has nothing to do with the Magic Remedies Act, which I had clearly stated in my application. The authorities are taking refuge under the stay issued by the Mumbai court," says the doctor.
"Patanjali was not my target. I filed several complaints against them as they were the company which published most of these illegal advertisements. I think the media also cannot shrug off the responsibility of publishing misleading advertisements. They, too, are violating the rules, and I have filed complaints against the Times of India and Mathrubhumi. Anyhow, after January 2 this year, the advertisements have stopped appearing in prominent newspapers. But I am not sure that it would not come back again. It has happened in the past also," he added.