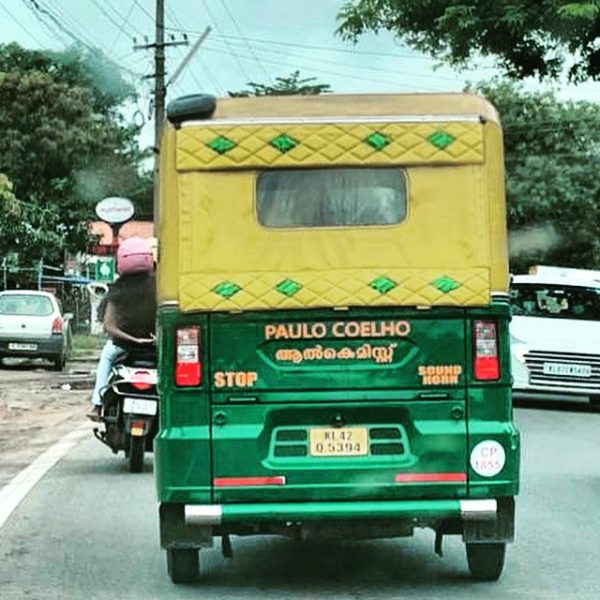 From fan to 'fanatic': Tracing Paulo Coelho's popularity, journey of his admirer in Kerala
There is an oft retold story about the connection between Kerala and Latin America, that when a teacher in an upper primary school class asked her students to name five Malayalam fiction writers, at least five of them wrote Gabrial Garcia Marquez as one.
Gabriel Garcia Marquez is as beloved among Malayalis as any great author who has ever written in our own language. Since the late 1970s, nearly all of Marquez's works have been translated into Malayalam and have been selling like hotcakes. Not only Marquez, but also writers ranging from Pablo Neruda to contemporary Brazilian author Natalia Borges Polesso, filmmakers like Luis Bunuel and Fernando Solanas, football players like Maradona, Pele, and Leo Messi, and politicians like Che Guevara, Castro, and Hugo Chavez, the Latin Americans occupy a special place in the heart of Malayalis.
Also read: Feeling Kerala review: An anthology journeys into the heart and soul of God's Own Country
Immense popularity

Scores of people from Kerala, cutting across the entire class, have read all of the works of many of these authors. In publication and popularity, Paulo Coelho, the Brazilian novelist, will be second only to Garcia Marquez in Malayalam. Like Marquez, all of his works till date have got Malayalam versions too. Coelho, an avid social media user, makes constant connect with his Malayali fans through Twitter and Instagram posts.
His famous quote from 'The Alchemist' – "when you want something, all the universe conspires in helping you to achieve it" – will possibly be the most used among Malayalis in the last decade or so. His fans include award winning film maker Sidharth Siva to auto-rickshaw driver Pradeep of Kodungallore.
Coelho himself maintains the connect with his Malayali fans through social media and had tweeted several times about Kerala and the readers here. Now with a documentary web series, 'The Fanatic', featuring ardent fans of celebrities, coming up with an episode of a die-hard Coelho fan, Reese K Thomas, the author once again has tweeted saying that he has been moved.
The fifth episode of an eight-part series streaming on the YouTube, produced by Bhavana Studios, featured Reese K. Thomas, a young Coelho fan from Muvvattupuzha, Kerala. Reese, who had acquainted with Paulo Coelho's novels in the school library, had received autographed cards from the author earlier. He has been followed by his idol on Twitter also. Reese, who has worked as an assistant director in several Malayalam films, is gearing up for his directorial debut.
"He follows only a very few people on Twitter, and being one of them that gives me great excitement," says Reese in the programme. "Moreover, he is someone who influenced and planted seeds of ideas in me right from the childhood. The realisation that he is following me was amazing," says Reese. Coelho commented on the YouTube channel of Bhavana Studios and later, tweeted about the episode with the message, "I was moved to tears, thank you Reese."
Also read: Truth/Untruth review: Mahasweta Devi's exploration of love and lust in Calcutta of 1980s
Social media connect
This is not the first time that Paulo Coelho is picking up social media posts by Malayalis to respond. When Mollywood actor Kunchacko Boban shared the first look of his 2016 film, Kochavva Paulo Ayyappa Coelho, on Facebook, the Brazilian novelist had taken note of it and retweeted the poster.
Of course, the movie's eponymous coinage of title (A wordplay using the novelist's name and the names of two characters of the movie) is what appeared to have captured the best-selling author's attention online. The movie directed by Sidharth Siva revolves around two characters who are inspired by Paulo Coelho's best-selling book 'The Alchemist'.
In 2021, Coelho once again tweeted an image from Kerala, this time an auto-rickshaw with the name of his acclaimed novel caught his attention. On the rear of the rickshaw the word 'Alchemist' was painted below his name in Malayalam. Coelho acknowledged the gesture by tweeting, 'Kerala, India (thank you very much for the photo)'.
'The Fanatic'
The documentary series 'The Fanatic' is notable for its unique presentation, featuring enthusiastic fans from different backgrounds who deeply admire well-known personalities. The eight-part series has already featured fans of Mohanlal, Mammootty, Vidyasagar, Suresh Gopi and Vijay, apart from Reese who has an uncanny adoration towards Coelho. Every episode has effectively engrossed viewers and gained significant popularity.
"While discussing about different content for internet audience we stumbled upon the idea of documenting fans. In fact, we wanted to focus on fans who had an emotional connect with their subject of adoration. Most of them saw their star as someone who rescued them from deep depression. We were banking on that emotional value," says Shyam Pushakaran, the national award-winning screen writer and one of the founders of the production house, Bhavana Studios, which is co-owned by actor Fahad Faasil and actor-director Dileesh Pothan. The production house has been credited for critically acclaimed films like Kumbalangi Nights, Joji, Palthu Janwar and Thankam.
Also read: Maulana Azad: A Life review: The enduring legacy of a freedom fighter and nation-builder
The first episode of the series featured Safeer Ahammed, an ardent Mohanlal fan. The second episode was on Athira Padikkal who adored music director Vidyasagar. The third part dedicated to Mammootty fan was on Sabeer of Thrissur, who started one of the earliest Mammootty fans' association in Kerala. Thalapati Vijay fan Dr Abirami Radhakrishnan was the most engaging episodes so far in the ongoing first season of the documentary series, with her narration being the highlight of the show.
"I wanted to gift something for Vijay's birthday and I made a comic book named 'Tale of a Thalapathy fan girl' which detailed about how I became a fan of him. It ended with a dream of mine. I have kept it for him, if and when I get a chance to meet him," Abhirami had said in the show. After watching the episode from the sets of Leo, Vijay called her personally.
The series running on YouTube channel of Bhavana Studios has already created a buzz with its unique content and treatment.