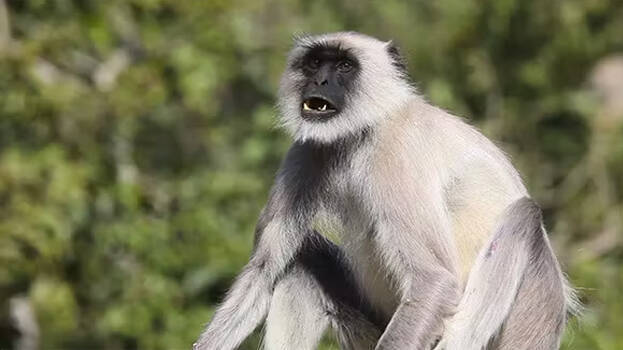 Elusive grey langur gives zookeepers, local residents sleepless nights in Kerala
An elusive Grey Langur, which broke free from its cage at the Thiruvananthapuram zoo recently, continues to keep zookeepers and local dwellers on the run in the Kerala capital.
On the tenth straight day since its escape, the female primate keeps people guessing with its hide-and-seek game by appearing in one spot or another suddenly and vanishing from there within no time.
Round-the clock surveillance

Despite round-the clock surveillance by a dedicated zoo team and their extensive searches, the monkey had been missing for some hours since Wednesday. But, it has been spotted atop a tall tamarind tree near the state-run Mascot Hotel, located adjacent to the Zoological Park, this morning, giving the zoo staff some relief.
Also read: Certificate forgery in Kerala: Former SFI woman leader, on the run, arrested; another missing
Known as "Hanuman kurangu" among local people, the white-haired monkey, with a black face and ears, was brought to the Zoological Park recently from a neighbouring state as part of an animal transfer programme. The new member gave a slip to the zoo staffers and ran out of its enclosure last week. Since then, the animal had been spotted atop various trees within and outside the zoo campus.
The animal could not be brought down despite the zoo staff offering her its favourite food including various fruits and trying to attract by showing her partner.
Offering it food, water
Local people, who came to know about the escape of the monkey through the media, gathered in huge numbers in many places to catch a glimpse of it whenever it appeared outside the zoo. Abu Sivadas, the director of Museum and Zoo, said the four-year old animal has been under their close watch since it jumped the enclosure on June 12.
Also read: SC notice to Kerala govt on plea to euthanise extremely dangerous stray dogs in Kannur
The incident happened when the staffers had tried to shift it to a new enclosure. "The animal is not a dangerous one. We have deployed staff to closely monitor its movements round-the-clock. We are also offering it food and water in various locations," he told PTI.
Even during the nights, a two-member team with vehicle facility is ready for the monitoring of the roaming monkey, he said. The director said they didn't want to tranquilise and catch the animal as it involves the risk of falling from the tree top and getting injured.
"Let it take its own time and come back. Anyway it is not going far away from the zoo. It is under our close watch," he said. The monkey looks healthy and energetic as of now, he said. The official also urged the media and the general public not to disturb it.
(With agency inputs)