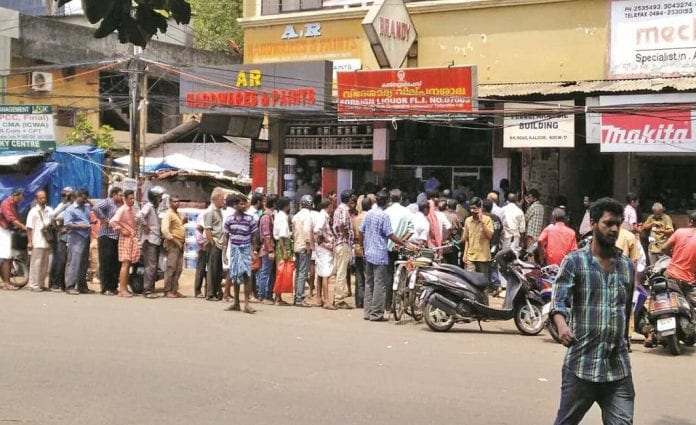 With a number of alcoholics in Kerala committing suicide after not getting liquor due to the lockdown to contain coronavirus, Chief Minister Pinarayi Vijayan on Sunday (March 29), directed the Excise Department to provide liquor to those with a prescription from a doctor.
The move comes after many reportedly showed acute withdrawal symptoms and five suicide cases were reported in the state.
On Saturday, in Kodungaloor, Thrissur district, a youth committed suicide by jumping into the river after suffering from withdrawal symptoms.
In another incident, a 38-year-old man working in a barbershop in Kayamkulam consumed shaving lotion after he didn't get alcohol. Though he was taken to hospital after he developed uneasiness, he died.
The Kerala government has also asked the Excise Department to provide free treatment and admit people with withdrawal symptoms to the de-addiction centers.
The Chief Minister has said the government is also considering the option of online sale of liquor as the sudden unavailability of alcohol may lead to social problems.
Related news: Karnataka stopping essentials supply at Kerala border: Pinarayi to Modi
The state has around 1.6 million alcoholics who consume liquor on a regular basis and among them, 45 per cent are heavy alcoholics with withdrawal symptoms, reported India Today.
Previously, psychiatrists and social scientists had warned the government about the crisis when the Opposition and Indian Medical Association demanded the closure of all the liquor outlets in the state.
Resonating with the CM, KK Shailaja, Kerala health minister also said, family health centers and primary health centers with psychiatrists are readied for treatment of liquor addicts. Serious cases can be referred to district or taluk level hospitals and 20 beds have been set aside in each district for liquor addicts, she said to The Indian Express.
Related news: COVID-19: After Kerala, Rajasthan jail inmates make sanitisers, face masks
D Rajeev, CEO of the Kerala de-addiction programme said, tele-counseling facilities in three centers for alcohol addicts have been made available.
"On Saturday, we identified around 100 persons in a critical situation with mental problems and who urgently required medical attention. Apart from the facilities in the government sector, we would also seek the support of private de-addiction centers in all districts," he said.
However, the Indian Medical Association (IMA) on Sunday flayed the Left government's plan, saying it was not "scientific".
Those showing withdrawal symptoms should be provided scientific treatment that can be given at homes or by giving medicines after admitting them to hospitals, IMA state president Dr Abraham Varghese said.
"The move to supply liquor to such people cannot be accepted on scientific grounds. Doctors have no legal liability to give a prescription to get them liquor," Dr Varghese said.
A liquor prescription may even result in the cancellation of the licence of the medical practitioner, he said.
It was better to give scientific treatment to such persons and any other approach would make things more complicated, Varghese said adding that the IMA had already conveyed their concern to the Chief Minister in this regard.
(With inputs from agencies.)