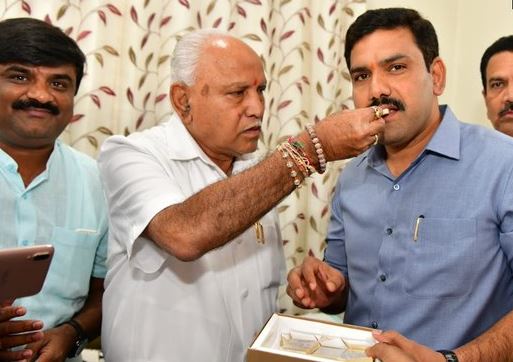 The recent meeting of party workers at BJP Yuva Morcha conventions led by former Chief Minister BS Yediyurappa's son and state BJP vice-president BY Vijayendra in Mandya, some 100 km from Bengaluru, was a success beyond expectations. In that meeting, party workers hailed Vijayendra as the "next chief minister".
On the surface, it may appear merely an instinctive reaction, but if one looks deeper into the developments in the BJP in the state, a different "politics" can be seen. Vijayendra's father Yediyurappa gave his farewell speech in the Legislative Assembly recently, saying that he would not enter the House again and not contest the next elections.
There is every possibility that his decision will prove costly for the BJP in the upcoming election. But while Yediyurappa is talking about retiring from electoral politics, his son Vijayendra is making active appearances on party platforms across the state.
Election tactics
Vijayendra also has a natural desire to succeed his father in state politics. When it comes to experience, Vijayendra has demonstrated his political ability by taking direct charge of many by-elections held during the tenure of his father as CM and leading the BJP to victory in those constituencies in north Karnataka. His election tactics surprised his seniors too. Vijayendra has now succeeded in having an independent presence in the party.
At the same time, Yediyurappa has a natural ambition to instate his son in a high position. Vijayendra is slowly taking over the BJP organization, and it is no surprise that he is a strong contender for taking up leadership.
Vijayendra must prove his mettle
Mandya is just an example of the "Vijayendra style" of politics. However, sources in the BJP said the central leadership has given him the task to prove his mettle in the Old Mysuru region in general and Mysuru and Mandya districts in particular, where he must beat the Congress and the JDS in their home turfs. Vijayendra has already proved himself once, when he oversaw Mandya's Krishnarajpet constituency by-election, guiding "poached" MLA Narayana Gowda to a win.
Also read: Why Karnataka Assembly will miss 'Raja Huli' Yediyurappa
The BJP, which is on a sticky wicket in Karnataka, is using all kinds of tactics and counter-strategies to retain the state. After giving enough chances to several leaders from the Lingayat community, the saffron army has finally tried Vijayendra as a weapon to keep the gateway to the south. After sidelining Vijayendra until now, the party is thinking of grooming him as a Lingayat leader. Thus, he will be taking charge of Mandya district and Mysuru, where he must tackle the Opposition, including former CM Siddaramaiah, KPCC chief DK Shivakumar, and former CM HD Kumaraswamy.
Signs of shrewdness
Vijayendra, unlike his MP brother BY Raghavendra, has shown signs of shrewdness by learning a few tactics from his father. He faced corruption charges and allegations of being a proxy CM even when his father was in power. However, all these prompted BSY to resign in July 2021.
It is also said that the responsibility of inspiring all the BJP rallies is on Vijayendra's shoulders. Preparations have reportedly been made for holding rallies of Scheduled Castes, Scheduled Tribes, women, farmers, youth, and backward classes, and Vijayendra has been appointed as the in-charge of all these rallies ahead of the upcoming Assembly elections on March 15. BJP reportedly aims to reach 2 crore voters through these rallies. Thus, Vijayendra has not been given the charge of the election, but that of lining up workers at various rallies for it, sources said.
Still no strong Vokkaliga leader
Interestingly, the Vokkaliga leaders, including ministers R Ashok, Narayana Gowda, and Gopaliah, were asked to take charge of the Mandya district to face the Assembly elections. R Ashok retreated as people showed him "Go Back" placards. Following that, Narayana Gowda and Gopalaiah refused to take charge of the district. In this time of crisis, Vijayendra has been asked to mobilise Lingayat votes and improve BJP vote bases.
Also read: Amid Karnataka BJP leadership crisis, RSS scans Vokkaliga candidates
In July 2022, BSY had said that Vijayendra would contest from the Shikaripura constituency since he was not contesting the elections. However, the BJP had maintained that the party would decide on the candidates and their constituencies.
There is a possibility that Siddaramaiah will contest from Kolar. However, he may reportedly be considering Varuna too. If so, BJP is reportedly preparing to field Vijayendra from Varuna. If Vijayendra manages to defeat Siddaramaiah, it will be quite an illustrious feather on his hat.
Prime Minister Narendra Modi recently summoned Yediyurappa to Delhi and assured him that if BJP gets the majority in Karnataka this time, he would protect their interests. However, Yediyurappa is reportedly keen on knowing who will be the next CM and also the future of his sons.
He is reportedly not ready to accept anyone else, including Basavaraja Bommai, as the chief ministerial candidate. And even the BJP national leadership does not have the courage to ignore Yediyurappa. In any case, the BJP's strategy of winning elections by experimenting with Hindutva is not expected to bear fruit in the state. So, this time, it needs a good leader to bring the party back to power.