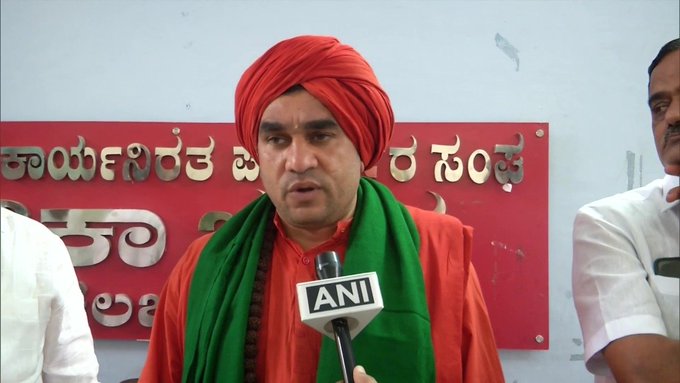 Every political party is in the race to woo the Panchamasalis, a crucial segment of the Lingayat community, ahead of the make-or-break assembly elections in Karnataka.
Particularly in North Karnataka, a region where they are heavily concentrated, both the ruling BJP and the main Opposition Congress are desperately seeking their support.
The BJP's attempt to give 2 per cent extra reservation to Lingayats was actually aimed at wooing the Panchamasalis. At the same time, the Congress hopes to get the community's support, as the extra reservation will not become a reality thanks to legal loopholes.
Also read: Karnataka polls: BJP ends Panchamasali stir with quota hike, but issue isn't over yet
BJP losing ground?
The BJP enjoyed the support of the community for two decades but now suspects that some sections will move towards the Congress.
The Congress hopes to recover the base it lost two decades ago after it removed its Lingayat Chief Minister Veerendra Patil, in 1995. Now, with prominent Lingayat leaders of BJP like Jagadish Shettar and Lakshamana Savadi switching sides, the Congress is looking forward to a revival.
The Panchamasalis, who populate a wide region, including Hubballi, Belagavi, Bagalkot, and other districts in North Karnataka, are akin to other backward communities like Kurubas or Scheduled Tribes. Many of them are agricultural labourers and working for economically better-off people.
Also read: It will be tough for Shettar, tougher for BJP in critical Lingayat belt of Hubballi
For instance, they work for landlords from Scheduled Tribe communities, too. Elsewhere, they work for the 'upper castes' among Lingayats, including Banajigas, Ganigas, and Veerashaivas.
Mixed economic status
Rajappa Tigannavar, a farm labourer from Adalatti village, told The Federal that he works for a landlord of Kuruba community. "I am unable to send my son for higher education. We are struggling to survive, and my two children now graze sheep for a landlord. My wife is a daily wager."
Ramanna Ajjanna, a Panchamasali Lingayat, said: "Everyone seems to think the community is economically well off. But we are deprived of facilities. A small percentage of Panchamasalis are landlords and do business in nearby cities. Some are big politicians. But the whole community cannot be considered economically advanced."
The Federal observed that in the villages, the Panchamasali Lingayats, Kurubas, and Scheduled Tribe Valmikis have the same status. "Some politicians mislead us by giving more reservations, but it is not happening either. They use these opportunities for their personal growth by creating misunderstandings," complained Veerappa Rangappa Gaddannavar of Ajurmaradi village.
But Eeranna Esannavar, a Panchamasali leader in Bagalkot, told The Federal that 10 per cent of Panchamasalis own at least 10 acres of land and grow grapes and sugarcane; their economic status is good.
Huge numbers
Sri Basava Jaya Mrityunjaya Mahaswamy of Kudalasangama Mahapeeth said Panchmasalis number more than one crore in parts of Karnataka, Maharashtra, and Andhra Pradesh. However, their numbers are the highest in Karnataka among all the states.
Also read: Shettar ire opens up Brahmin-Lingayat fault line in Karnataka BJP
Ramanna Rajannavar, a youth leader of the community in Govhatti village in Bilagi taluk of Bagalkot, said the community is 70-lakh strong in North Karnataka and boasts state-level leaders, including ministers Murugesh Nirani and CC Pati. The proposed higher reservation, he feels, won't help because of loopholes. "If it was done scientifically, it may have helped the community."
Panchamasalis are followers of Basavanna, a Lingayat social reformer in the 15th century. He tried to give a respectable social status to profession-based communities, such as farmers, potters and flower-sellers, within the Lingayat community by rejecting all rituals. Basavanna encouraged icons and symbols such as the wearing of Istalinga (necklace with personal linga, a symbol of Shiva).
Also read: The political statement of Panchamasali seers taking part in Rahul's Basava Jayanti show
Historian Sham Bha Joshi's research suggests that the ancestors of the Panchamasalis always practised agriculture in the northern parts of Karnataka. Some historians even suggest that the Panchamasalis were the founders of the mighty Chalukya Empire.
However, today, the Panchamasalis are fighting for inclusion in category 2A. While 34 Veerashaiva Lingayat sub-castes are already enjoying 2A quota rights, the Panchamasalis have been denied that status.