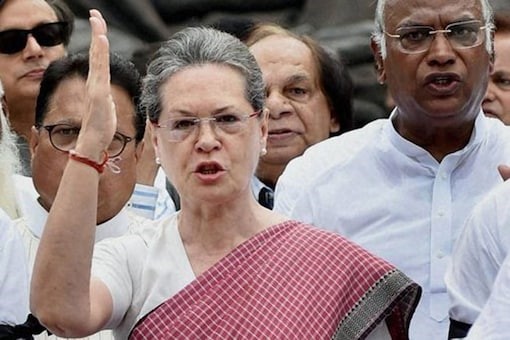 Sonia Gandhi, former Congress chief, is scheduled to make her first campaign appearance for the Karnataka Assembly elections on Saturday (May 5) by addressing an election rally in Hubballi. The elections are set to take place on May 10.
The Congress candidate in Hubballi-Dharwad Central is former Chief Minister Jagadish Shettar, who joined the party after being denied a ticket to contest the elections by the BJP.
The BJP has fielded Mahesh Tenginkai in this segment.
Also Read: Mulki rally: Modi soothes Bajrang Dal nerves in coastal Karnataka
The fight between Shettar and Tenginkai has become a prestigious battle of sorts for the ruling BJP and the Congress, which are putting all their might behind their candidates.
"Sonia Gandhi will arrive at around 12.30 pm on May 6, and after addressing an election rally, she is slated to return from there at around 3.30 pm. This is her only public meeting," party sources told PTI on Thursday.
AICC President M Mallikarjun Kharge, who hails from the State, and Congress leaders Rahul Gandhi and Priyanka Gandhi Vadra have been campaigning extensively in Karnataka, where the party is seeking to wrest power from the BJP.
Also Read: Karnataka polls: Modi chants 'Jai Bajrang Bali' in campaign meetings
On Saturday, Prime Minister Narendra Modi would hold a 36.6 km road-show in Bengaluru.
The road-show would pass through the city's 17 Assembly constituencies.
The Prime Minister would cover a distance of 10.1 km from 11 am to 1 pm, and 26.5 km from 4 pm to 10 pm, BJP leaders said.
May 8 is the last day for campaigning, and the counting of votes is on May 13.
(With agency inputs)