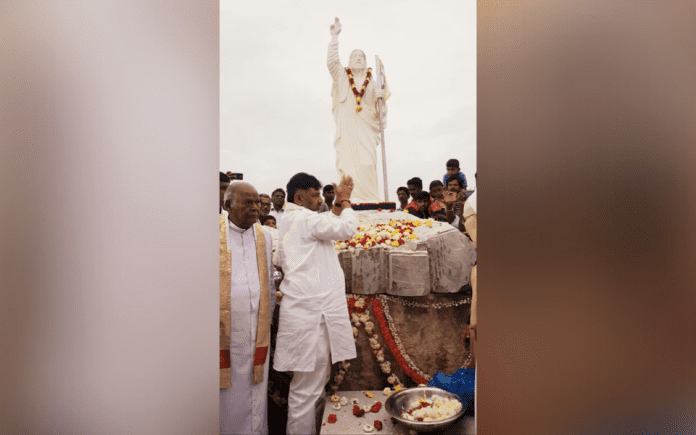 The Ramanagara district police on Monday (January 13) granted special permission to RSS leader Kalladka Prabhakar Bhat to visit the top of the Kapala hill, a religious site that has been fought over by local Catholics, and Sangh Parivar and BJP leaders.
Local Catholics have been trying to build a 114-ft statue of Jesus Christ at the top of the hill for quite some time. They claim they have been praying there since 1675.
However, Bhat and several other Sangh Parivar and BJP leaders opposed the construction of the statue, claiming it to be an ancient Hindu place of worship.
Speaking to reporters after descending the hill, Bhat claimed that he had seen a rock there that was dedicated to the Munneshwara deity. "The Christians have built a platform on top of the holy rock dedicated to Munneshwara. Many of our innocent Hindus are unaware of this atrocity."
He also vowed to start a nationwide agitation like the Ayodhya movement to "reclaim" the Munneshwara temple.
Bhat, who led nearly 5,000 Hindutva activists at Kanakapura town on a rally against the Christ statue on Monday, headed to the site after the demonstration, which was marked by incendiary speeches against the minority community.
Interestingly, the district police allowed Bhat the special visit but prevented local Catholics — who have been worshipping at the hill for centuries — and journalists from visiting the site.
Bhat's visit to the site led to a game of hide and seek between reporters and the police.
Journalists who had gathered at the base of the hill to capture Bhat's visit were given the slip by the police who tried to take the Sangh leader up the hill using a different route. However, the police plan didn't work as one of the journalists spotted Bhat's convoy headed uphill.
Also read: This is Krishna's land, says Sangh protesting Christ statue in Karnataka
The incident led to a war of words between TV journalists and the police, with the latter threatening to arrest journalists who did not fall in line.
When Bhat finished his tour of the site and came to address the journalists who were waiting for him, they sought to know how he was allowed entry. Bhat replied to this saying, "Who prevented you from entering? I will ask them to allow you." He then reprimanded the police and ordered them to allow reporters to enter the site.
Ramanagara Superintendent of Police Anoop Shetty, who granted Bhat the special permission and also ordered his subordinates to restrain journalists, could not be reached for comment.
In fact, when a journalist contacted the Deputy Chief Minister C N Ashwathnarayan and complained that they were being prevented from reporting the incident by the district police, he said that he too was unable to contact the police officer.
What worked, in the end, was not the order of the DCM but that of the Sangh leader.