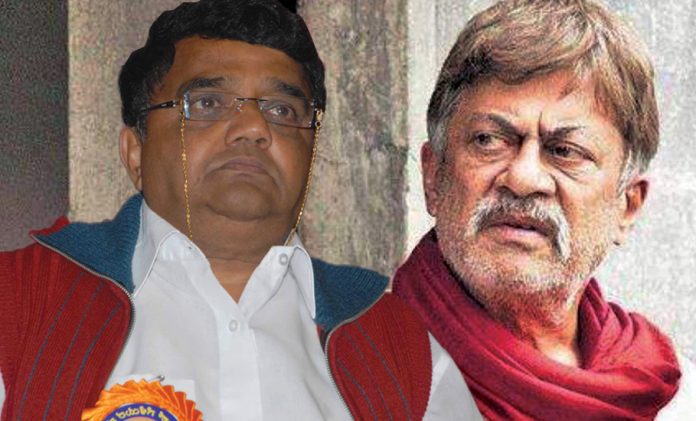 Dwarkish and Anant Nag (File photos)
Karnataka Chief Minister Basavaraj Bommai on Thursday expressed happiness that eight persons from his state were honoured with Padma awards on Republic Day. This shows the "bountiful talent" that Karnataka has, he said. Former Chief Minister SM Krishna, writer and social worker Sudha Murty and noted Kannada litterateur Prof SL Byrappa are among those selected for the awards. 
However, the widely shared opinion in the Kannada film industry is that it has been grossly neglected. While the eight Padma awardees from Karnataka this year belong to various fields, from public affairs and literature to education, social work, science, engineering and art, the Kannada film industry (or 'Sandalwood') has been overlooked, goes the argument.
Doyens of industry
Particularly, there is concern that Anant Nag and Dwarkish have not been honoured with the top awards yet. While Anant Nag has spent nearly 50 years in the industry as an actor, Dwarkish has spent nearly 60 years as an actor, director and producer. The two have been neglected by successive governments, say industry insiders. 
The Federal tried to reach out to Anant Nag and Dwarkish for their comments, but the two preferred to remain silent on the issue. 
Speaking to The Federal, senior journalist and film critic B Ganapathi said: "Every awardee from Karnataka is deserving, no doubt. In fact, the Central government has been doing a good job for the last few years choosing great personalities from the nook and corner of the country. However, it is important to recognise Anant Nag and Dwarkish."
Also Read: 'Thankam' review: A peep into Kerala's shimmering gold trade
"These two have not been given due credit at various levels despite their contribution to the field of art," said  Ganapathi. "Young artists from other industries have been awarded Padma awards, but we are not even asking for youngsters from our industry to be chosen. I hope the government understands the worth of these two giants from the Kannada film industry and honours them."
The selection process
While anyone can nominate anyone, including oneself, for a Padma award, the Union government also writes to various state governments, governors, Union Territories, Central ministries and various departments to send in nominations. Despite this rigorous process, neither Anant Nag nor Dwarkish has been recognised. 
They are not the only ones to have been overlooked, according to senior journalist and film critic Shyam Prasad. "It's not just Anant Nag and Dwarkish. Great personalities like Vishnuvardhan, Ambareesh and Hamsalekha are also overlooked. It's a quota system and a very ineffective system. Around 100 people are given Padma awards every year and we live in a country with a population of 120 crore," he told The Federal.
"The Central government's selection process is not transparent. For example, SM Krishna has been honoured with Padma Vibhushan. He is a great man no doubt, but why not for former prime minister HD Deve Gowda," wondered Shyam.
'Outsiders' in the fray
It's interesting to note that film personalities from other languages have received the Padma awards from the Karnataka 'quota'. Among these are Telugu filmmaker SS Rajamouli and Tamil actor-director-choreographer Prabhu Deva. While both were indeed born in Karnataka, Rajamouli was raised in unified Andhra Pradesh and Prabhu Deva in Tamil Nadu, and it is from these states that they rose to national fame. 
The duo getting the awards from Karnataka's 'quota' had raised eyebrows earlier, with the state's citizens pointing out they had hindered the chances of locals.
Film critic Shyam narrowed it down to politics. "Karnataka has never been politically powerful enough to demand anything from the Central government," he remarked. "They just do what they are asked to do. The Padma awards are a political game and political handouts. The Central government wants to focus on the old Mysuru region in the upcoming elections and they have done what suits their political interests."
Growing demand
Various organisations did seek a nomination for Anant Nag for Padma awards in 2022. Several media houses made serpentine queues outside the actor's house to get his reaction when he was again overlooked. During one of the interviews, Anant Nag said — rather sarcastically — that he looked forward to something bigger than Padma Shri due to various reasons. 
Also Read: Oscars 2023: RRR's 'Naatu Naatu' among 3 nominations for India
Fueling the angst in the state this time round is the Padma Shri for Bollywood actor Raveena Tandon. Her achievements are dwarfed by those of Anant Nag and Dwarkish, say Kannada film observers. Anant Nag has publicly stated that he is "proud" of Prime Minister Narendra Modi. That he has not been recognised despite his apparent right-wing leanings has left people surprised.