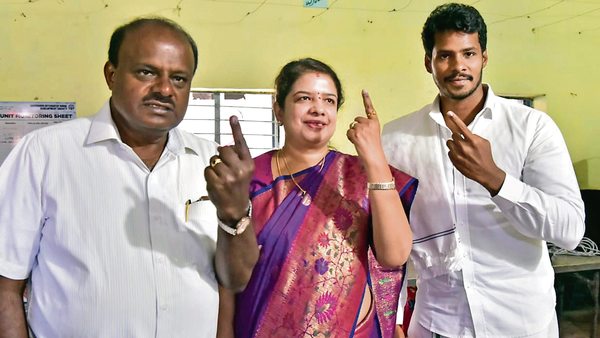 Following his defeat in the just-concluded Karnataka Assembly elections from the Ramanagaram Assembly seat, Nikhil Kumaraswamy, the son of HD Kumaraswamy, announced his resignation from the position of the Janata Dal (Secular) youth wing on Thursday. He reportedly gave his resignation to CM Ibrahim, the state president of the JD(S).
Elections for the Karnataka Assembly were held on May 10 and the results were made public on May 13.
He was defeated by Iqbal Hussain, a candidate for the Congress, in the Ramanagaram election.
Also Read: Karnataka minister hints at overturning hijab, cow slaughter ban
According to the Election Commission of India earlier this month, Nikhil lost to Congress candidate HA Iqbal Hussain by 10,715 votes, while BJP candidate Gautham Gowda received 12,912 votes.
The Kumaraswamy family used to retain sway in the Ramnagaram seat, hence the defeat was unexpected. HD Devegowda previously served as the representative for Ramanagar in 1994 and after he was appointed Chief Minister. In subsequent elections for the Assembly in 2004, 2008, 2013, and 2018, HD Kumaraswamy won the district of Ramanagaram.
Anita Kumaraswamy, Nikhil's mother, formerly held the Ramanagar seat after winning it in the 2018 by-elections. Previously, Nikhil ran for Mandya's seat in the 2019 Lok Sabha election but was defeated by Independent candidate Sumalatha Ambareesh, who was endorsed by the BJP.
Also Read: 52 dead in Karnataka during pre-monsoon rains, says CM Siddaramaiah
According to the Indian Election Commission, Congress won a resounding 135 seats in the Karnataka Assembly elections. JD(S) won 19 seats, reducing the BJP's majority of 66 seats.