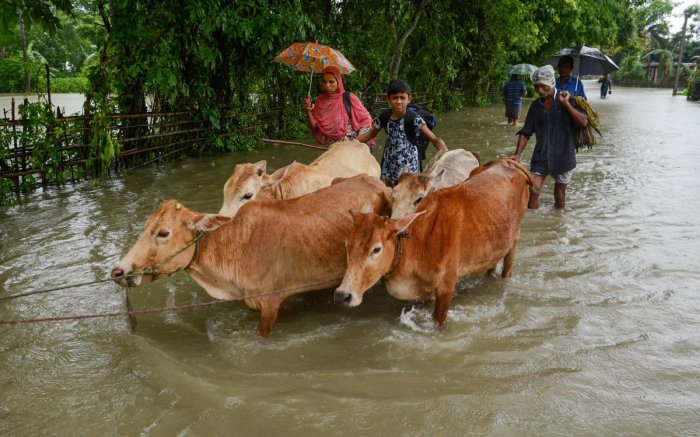 Milk production hit by Belagavi floods, sees 45 lakh litre dip
Milk production has been hit due to the heavy rain-induced floods in north Karnataka's Belagavi where more than 60 lives have been lost.
The Belagavi District Co-operative Milk Producers' Societies Union Limited (BEMUL), which used to receive around 1.8 lakh litres of milk per day, has seen a dip of 45 lakh litres daily to 1.35 lakh litres.
The floods triggered by rains since August first week and landslides in some places left a trail of destruction and devastation and pushed lakhs from their homes to relief camps.
Despite efforts by cattle owners to move cows and buffaloes to sheds near relief camps, many have perished.
Soma Prassanna, chief of marketing, BEMUL, said thousands of cattle in relief sheds without adequate fodder had also caused a slump in milk production.
Ankli, Konnur, Chikkodi, Kagawad, Raibagh and Athani regions were the top contributors in the district, but these have been hit badly by floods.
The expected milk production this monsoon was 2.75 lakh litres per day. "Looking at the current crisis in the state, I think it is impossible to reach that mark," Prassana said.
He also said that the region had been affected by droughts and floods now.
"Karnataka first witnessed drought now it faced floods. The damage has been done and it will take months for us to recover from this," he said.
Also read: In flood-hit Belagavi, relief efforts put politics to shame
Despite the slump in milk production, Nandini Milk which is part of the BEMUL, is doing its bit to help flood victims by distributing free milk in relief camps.
Floods had also affected 150 weavers in the region, causing losses of around ₹50,000-₹1 lakh.