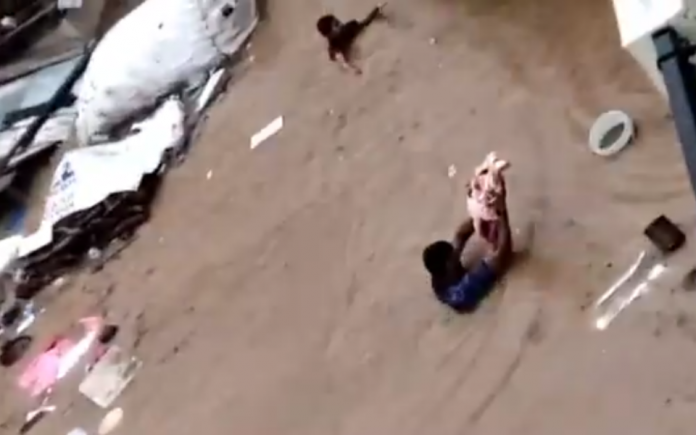 Following heavy rains and waterlogging in several parts of Bengaluru, videos of a few men rescuing a 15-day-old newborn baby from being washed away have emerged on social media.
According to sources, the video was reportedly shot at Bengaluru's Hosakerehalli area.
The video shows a man carrying a newborn baby above his head in shoulder-high water and handing the child over to a woman.
According to NDTV, the young men also saved the life of another baby from a different flooded house in south Bengaluru, where the streets were flooded and people were forced to evacuate their houses.
#RAIN FURY NOW #Bengaluru #bengalururain pic.twitter.com/MKfuxXzw3F

— dinesh akula (@dineshakula) October 23, 2020
Netizens took to Twitter to share other videos of flooding in Bengaluru after the city received 13.2 mm rain. The videos show cars being swept away or almost fully submerged in low-lying areas.
Bengaluru's problem is greed. Bottomless greed of its elected representatives, officials, builders and others. Powerful cartels run the city. It is beyond repair. No hope, if we can't fix the real issues. #bengalururain pic.twitter.com/IvWpnY3Zy0

— DP SATISH (@dp_satish) October 23, 2020
#bengalururain
Rain water diversion from J.P Nagar, Kanakapura Main Road and Yelachenahalli towards Kanaka Nagar Fayazabad causing major disaster poor people life is danger kindly look into this ASAP pic.twitter.com/spK8q51pRR

— योगेनद्र नाथ (@SYSCARE20) October 23, 2020
Traffic too was affected severely as vehicles came to a stop in the water.
Hello Puncture Wala @Tejasvi_Surya where is Vikas#Bengaluru #bengalururain pic.twitter.com/GBFUTCYChr

— Bihar Ki Begum (@SarkariBegum) October 24, 2020
According to the India Meteorological Department, "light to moderate" rain flooded parts of Bengaluru Rural, Bengaluru Urban, Tumkur, Kolar, Chikkaballapur, Ramanagara, Hassan, Chikkamagaluru, Kodagu, and Dakshina Kannada districts, NDTV reported.
The weather department also said Bengaluru is expected to "receive light to moderate spells of rain with intermittent heavy spells of rainfall" on Saturday (October 24).