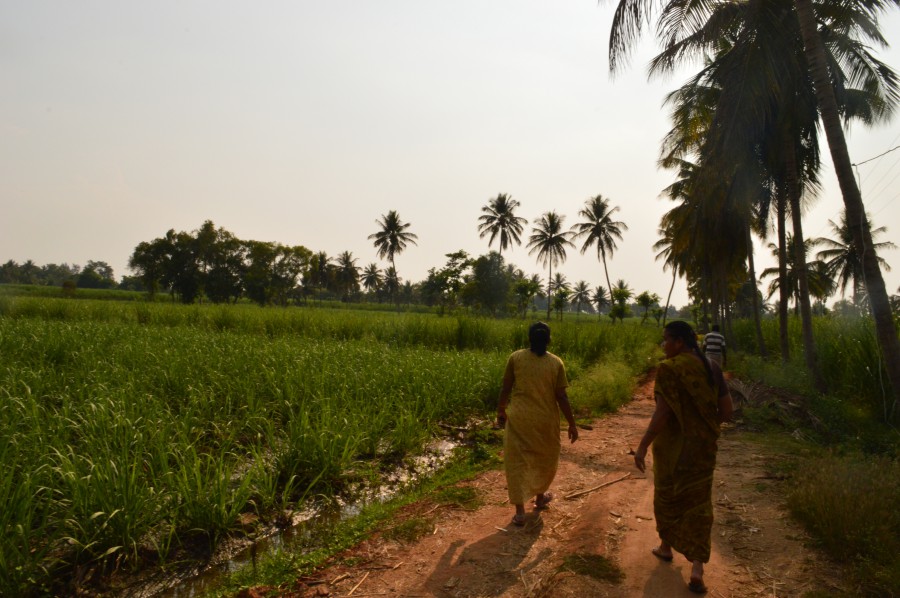 Sugar factories' dues may push farmers' votes against JD(S) in Mandya
It is a sunny afternoon. Sitting in the courtyard of the house, two debt-ridden farmers discuss their woes in Gopalapura village, Mandya. Mamatha Srinivas and her neighbour Sudha Venkatappa weigh their options on who to vote for this Lok Sabha election. In Mandya, Karnataka Chief Minister's son Nikhil Kumaraswamy and actor Sumalatha Ambareesh are locked in a political battle.
The two farmers are torn in their decision — should they to support a woman contestant or vote based on what the current government has done for them? While the first option is simple, the second one depends on farm loan waivers and whether they'll get their dues from cane crushing companies.
"The next cropping season started and I do not have enough money to prepare for it. I have debts to clear so I cannot take a loan again. I pledged my gold ornaments and took ₹3-lakh loan for which I pay high interest rate of 3% per month," says Sudha. She has lost count of how much the sugar factory owes her. She know the government fixed price was ₹2,612.50 per metric tonnes and she gave NSL Sugars Limited (NSL) 168 tonnes this season. So, the sugar company owes her ₹4.4 lakh.
Mamatha, who sold 150 tonnes of sugarcane worth about ₹3.9 lakh to the government-owned company, claims NSL owes her about ₹70,000. "The government gave me a farm loan waiver of ₹35,000. I have to pay the money lender 3% interest for a ₹3-lakh loan I've taken. I end up shelling ₹36,000 for four months (because of a delay in payment by factories). The farm loan waiver makes no sense to me as my entire waiver is offset with loan interest," she adds.
Mandya is one of the largest sugarcane producing districts in Karnataka. At present, there are four sugar mills in the district, apart from one that is now defunct. All of them put together owe about ₹140 crore to farmers.
Across the state, several companies owe farmers about ₹3,300 crore — about 30% of the overall payment — for the cane crushed during 2018-2019. (Statement showing statewide dues.) All these companies flouted rules to delay payments to farmers. The Sugarcane (Control) Order, 1966, stipulates payment within 14 days of supply, failing which companies are liable to pay a penalty of 15% annual interest on the amount due for the delayed period. State government has the power to enforce these rules and take action against defaulting mills.
In most cases, the companies delay payments by three to four months. Despite warnings from the district deputy commissioner and cane development commissioner, the sugar factories failed to settle the dues, leaving sugarcane growers in deep debt.
"We have sent them notices to settle the dues and pay the farmers the penalty as stipulated. But the companies don't listen to us and continue to delay payments," says KG Shantaram, Commissioner of Cane Development. "Just two days ago, we cleared dues amounting to ₹17 crore of the state-owned Mysore Sugars Ltd."
Ailing sugar factories
When the cooperative-run Pandavapura Sahakari Sakkare Kharkhane (PSSK) sugar factory went defunct last year, farmers in Pandavapura had to send their cane to a different factory, which increased their expense. Now, the state-owned Mysore Sugars Ltd (Mysugar) reels under heavy losses due to administrative inefficiencies.
In the recent budget, Chief Minister Kumaraswamy said he would give ₹100 crore to revive Mysugar. But as the election campaigning heats up, with his son contesting, the CM now says he will build a new factory instead of reviving the old one. "It is good that the government wants to open a new factory. But if they can't manage and revive the existing one, what is the point of talking of a new unit?" asks Kurubur Shantakumar, president of All India Sugarcane Growers Association. "These ailing units increase a farmer's distress and the government needs to take stringent actions," he adds.
The Mysugar factory is just five kilometres away for Mamatha. Shutting the unit would mean an additional 10% on the overall cost as she would have to transport the cane to a different unit in the district. "We don't know if the talk of a new factory is yet another poll gimmick. If the government cannot take care of existing units, and the farm loan waivers are of no help, why should we vote for them?" she asks.