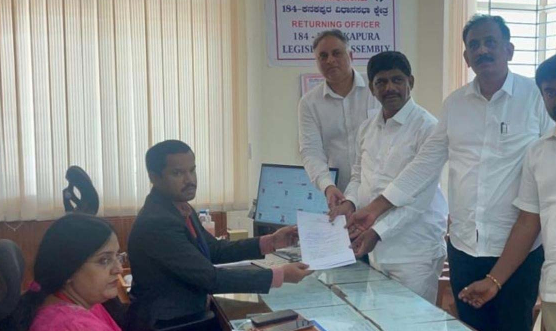 In a surprise move, Congress MP from Bangalore Rural D K Suresh on Thursday (April 20) filed his nomination papers from the Kanakapura segment, the constituency from where his elder brother and state chief DK Shivakumar is also contesting, just hours before the time for filing nomination elapsed.
According to several Congress functionaries, Suresh filed his papers as a "backup plan" in the event of the nomination of Shivakumar getting rejected. While Suresh called it a "precautionary measure", Shivakumar said it's part of Congress own calculations, as he alleged a certain conspiracy by the BJP.
Speaking to reporters, Suresh said he entered the election fray from the Kanakapura segment as instructed by the party.
"I'm a voter from Kanakapura and I should be contesting from there. That is the direction from our party president and AICC leaders. We are hearing about certain conspiracies, so as a precautionary measure I have filed my nomination."
Also read: Karnataka election | Varuna, Kanakapura present litmus test for Somanna-Siddaramaiah, Ashoka-DKS
Questioned as to what kind of conspiracy, he said, "There are chances for anything to happen. BJP people have an eye fixed on D K Shivakumar. They cannot do anything to him by getting public support, as people of Kanakapura won't support them. What BJP is doing against opposition parties using wrong means, you have been seeing. So as a precautionary measure I have filed a nomination."
He claimed that every day new cases are coming up against him and his brother in the courts.
"Four to five days ago too we got a notice from the Income Tax department from Chennai, asking for personal appearance. We have said we will come after the election, and for now we will not be able to come as we have election responsibilities," he told reporters.
Stating that even though there is a stay against all cases against the brothers in the high court and the Supreme Court, the threat that the BJP may 'misuse' official machinery still looms large.
"Yesterday the stay was extended (in a case), but with power in their hands, what they (BJP) will do at what time we are not sure. By misusing official machinery they have targeted the Opposition party and Shivakumar earlier," he said.
Shivakumar, who filed his nomination on April 17, has won from Kanakapura three times since 2008.
The BJP, on the other hand, has fielded its prominent Vokkaliga face R Ashoka from the segment to take on Shivakumar, the Congress strongman from the community.
Also read: Shettar-Savadi effect will get Congress 150 seats: D K Shivakumar
"They (BJP) have got someone from Bengaluru (Ashoka) who doesn't have any relationship with our constituency. In the Delhi press conference, they (BJP while announcing ticket) have said they will give 'takkar' (stiff fight) to D K Shivakumar. So we too have understood what all they may do. People of Kanakapura will give them an answer on April 13 (the day of results). Let them do whatever they want, there is no question of us yielding," Suresh said.
Asked if the conspiracy was to not allow Shivakumar to contest polls, "by rejecting his nomination", Suresh said, "We have certain suspicions… However, all the records (along with the nomination papers) are correct."
On whether Shivakumar would contest from Kanakapura if everything went as expected, he said, "Let's wait and watch ….I have given my B-form too."
Suresh is the lone Congress Member of Parliament from Karnataka. This is the second time he is representing the seat.
Also read: Karnataka polls: BJP picks aggressive Hindutva faces to up its chances
He had earlier said he was not interested in coming to state politics, when speculations were rife that he may be fielded from Ramanagara against JD(S) leader and former CM H D Kumaraswamy's son Nikhil Kumaraswamy.
There had also been speculation that as a "retaliatory measure" to BJP fielding a strong candidate against Shivakumar in Kanakapura, Suresh may be fielded from the Padmanabhanagar segment, the other and neighbouring seat from where Ashoka is contesting. Shivakumar too had earlier hinted in this direction.
(With inputs from agencies)