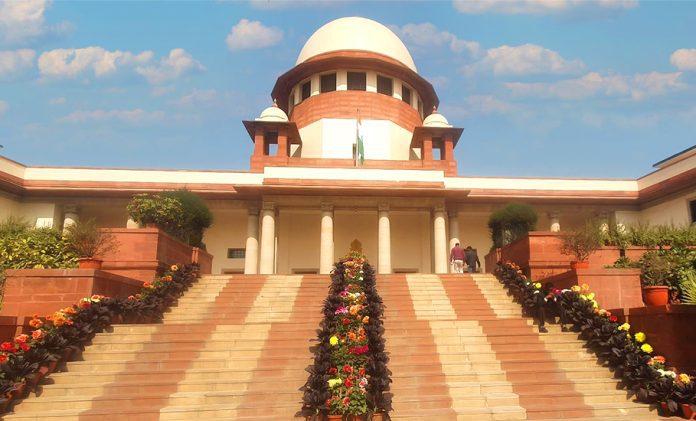 The Supreme Court has taken exception to political statements being made regarding the withdrawal of four per cent reservation for Muslims in Karnataka. The court on Monday said that sanctity needs to be maintained when there is a court order.
Public statements should not be made on a sub judice matter, the court said.
The apex court adjourned to July the pleas against the Karnataka government's decision to scrap the four per cent reservation in the OBC category for Muslims in the state. The petitioners have complained about Home Minister Amit Shah's recent statement made during Karnataka election campaign.
Sub-judice matter
Appearing for the petitioners, senior advocate Dushyant Dave said that the home minister was "proudly saying" that his party has withdrawn the quota to Muslims.
Also read: Congress working on banned outfit PFI's agenda: Amit Shah in Karnataka
"Why, when the matter is sub judice, should such statements be made by anyone?" Justice BV Nagarathna asked.
Solicitor General Tushar Mehta, appearing for the government, claimed the court wasn't told about the context or the content of Shah's remark. He said that if someone is principally against religion-based reservation, the statement it is justified.
A NDTV report quoted Justice BV Nagarathna telling Tushar Mehta: "You saying that four per cent reservation is unconstitutional, from this podium as SG and counsel appearing in this case…You can make this statement. But someone else from a public place making a statement…completely different."
Tushar Mehta sought deferment in this case citing an ongoing hearing in the same-sex marriage case.
Next hearing
Posting the matter in July, the bench said the interim orders passed in the last hearing would continue till further orders.
The court had said that Karnataka's four per cent reservation to Muslims will continue till May 9, the eve of polling for assembly elections, after the state government had sought more time to file its reply.
Karnataka govt plea
The Karnataka government had on April 26 told the SC that it had taken a "conscious decision" to not continue with reservation on the sole basis of religion as it is unconstitutional.
Also read: Karnataka's decision to scrap 4% Muslim quota flawed, says SC
On March 27 that state government had scrapped the four per cent quota for Muslims in 2B category of the 'Other Backward Castes' and increased quota for Vokkaligas and Lingayats in admissions and appointments to government jobs.