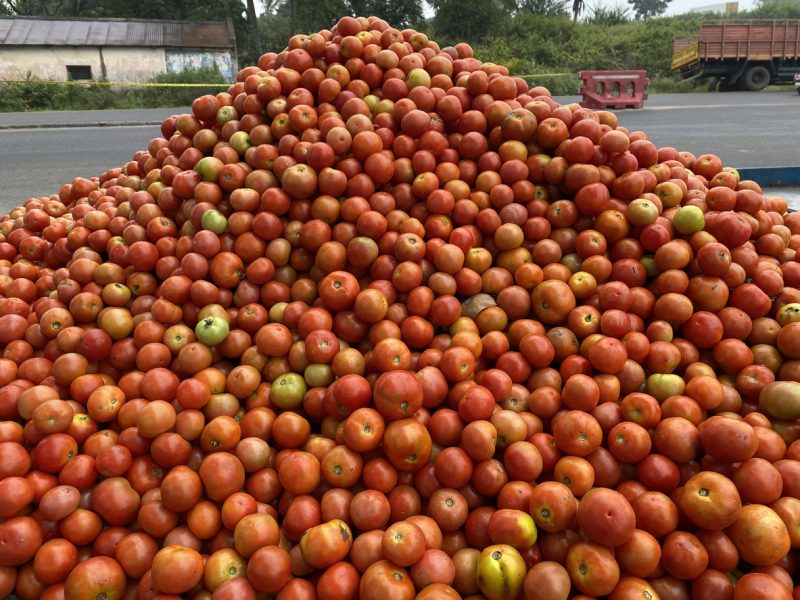 Karnataka Police launch full-scale war on tomato thieves; farmers install CCTVs
Prodded by worried farmers and a government concerned by skyrocketing prices, police in Karnataka have launched an all-out campaign to protect tomato crops from thieves who are said to be on the rampage.
Kolar and adjoining districts where tomato is the main crop have become the focus of both the thieves and the law enforcing agencies. The situation is said to be no different in Telangana, Andhra Pradesh and Maharashtra.
The demand for tomatoes is shooting up in Kolar, the country's second-largest market for the vegetable. The prices touched Rs 180 a kilo on Wednesday (August 2).
Also read: Theft, hijack, road rage, birthday present: Humble tomato attains celebrity status
Fifteen kg of tomatoes were sold for Rs 2,700-2,800 on Tuesday and it could touch Rs 3,000 soon, said Narayana Gowda, a leader of the Karnataka Farmers Association.
Farmers have begun to patrol their own fields with the help of family members but the thefts have not ended.
Farmers go for CCTVs
The farmers who can afford are installing CCTVs to ensure that nothing gets stolen from their farms. This, the farmers say, is something they have not done earlier.
Also read: Tomatoes bring windfall to Pune farmer, earn him Rs 3 cr in a month
The police are now patrolling even the highways which connect Kolar to Andhra Pradesh, Tamil Nadu, Telangana and Maharashtra from where tomato loads are transported to northern India.
Hundreds of farmers have reportedly approached the police seeking protection to their tomato fields.
A senior police officer told The Federal that the issue even figured in a meeting of the police brass in Bengaluru.
Also read: Ground report | Why tomato prices shot up in Kolar, and across India
It was advised that the police should take drastic action to curb the thefts in Kolar as well as the nearby districts of Bengaluru Rural and Chikkaballapur.
Night patrolling was also suggested in the tomato growing zone.
Tomato theft
Recently, the driver of a truck transporting tomatoes from Kolar to Jaipur in Rajasthan removed the GPS and diverted the load to Ahmedabad and sold it all for Rs 21 lakh, less than the actual price of Rs 25 lakh.
Also read: Just process it: India must pulp, can, freeze-dry its way out of seasonal inflation
He was arrested in Ahmedabad after tracking his mobile telephone records.
"The police should take action to protect the tomatoes sold on the tomato farm and the APMC market," said a Mandi owner, NR Satyanna.
Ramana Gowda, a farmer, told The Federal that the farmers were also facing several issues due to the spread of leaf curl disease (LCD) through uncontrolled white flies.
"The tomato yield is very less when compared to previous years. It was around 5,000 boxes (per box of 15 kg) yield last year. Now it is 500 boxes. I those were also stolen, think about the pathetic condition of the farmer," he said.
While some farmers have installed CCTV cameras on their own, some others have rented them from various companies.
Even in Bengaluru, traders are installing CCTVs in the vegetable markets in Kalasipalya and Yeshwantpur to avoid tomato thefts.
Tomato mafia
Said Narayana Gowda: "The tomato mafia of Mandi owners, pesticide and fertilizer companies and middlemen are minting money. This attracts criminals towards the tomato business. The farmers are facing a lot of problems due to these issues.
"They now have to take security measures at their farms and also while transporting the crop to the market," he said.
Tamil Nadu, Andhra Pradesh, Maharashtra, Odisha, Rajasthan and Delhi have seen a decrease in tomato yield due to rains and white fly disease.
As there is a huge demand for tomatoes, the traders from these states are ready to buy as many tomatoes as they can.
Even Telangana, Andhra Pradesh and Maharashtra are witnessing tomato thefts, said an official with the States Crime Records Bureau, Bengaluru.