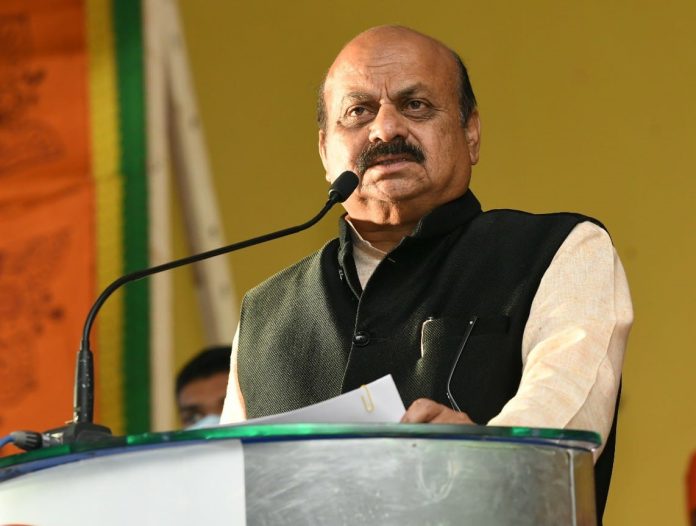 The Karnataka government's decision to scrap the 4% reservation for the Muslim community under the 2B category and distribute it among Vokkaligas and Lingayats right before the Assembly elections has predictably run into controversy.
While Opposition leaders have flayed the Basavaraj Bommai government for the move, Muslim leaders are avoiding any direct confrontation. They have instead opted to go to court against the decision, while at the same time deciding not to hold any protests or be provoked on the issue.
Shuffling reservations
For the BJP, the move is aimed at killing two birds with one stone. One is to appease the Panchamasalis (Lingayat sub-sect) and Vokkaligas, who have been demanding more reservation and Backward Class 2A category, and the second is to further polarize voters on Hindu and Muslim lines.
Muslims now will come under General category and, according to the government, will be included in the Economically Weaker Section (EWS), which has a 10% reservation. Many communities, including Brahmins, are covered under the EWS.
Muslims comprise around 15% of the state's population and a majority of them is educationally and economically backward.
Also read: Karnataka: Protestors seeking reservation pelt stones at Yediyurappa's house
Muslim leaders held a meeting in Bengaluru to discuss the issue as they feel there are more academically and socially advanced people in EWS and thus it will be difficult for Muslims to compete with them.
The reservation categories
The reservation issue has been a bone of contention in Karnataka for long now. The Panchamasali Lingayat community fought hard to increase its reservation quota and include it in Backward Class 2 A category. At the same time, the Vokkaliga community raised its voice to increase its reservation quota.
In December, the state Cabinet abolished the 3A and 3B categories of reservation and introduced 2C and 2D under Category 2 to benefit those in the backward classes. The abolished categories 3A and 3B were for 'Backwards'. The 'Most Backward' are in category 1 while those 'Moderately Backward' fall in category 2 – 2A, 2B and now the additional 2C and 2D.
Accordingly, those in the abolished 3A (Vokkaligas) and 3B (Lingayats, including its subsect Panchamasali) categories moved to 2C and 2D categories, respectively.
The Cabinet also sought a report from the Karnataka State Permanent Backward Classes Commission to suggest the quantum of reservation to be given to the EWS in proportionate to their population before increasing the quota of Lingayats and Vokkaligas
Now, with the state Cabinet's latest decision to distribute 4% of Muslim quota, the Vokkaligas, who had 4% will now have 6% reservation and Lingayats, who had 5% will now have 7% reservation.
Also read: Karnataka polls: Congress' first list has a few surprises; stumps BJP, JD-S
The government issued a gazette notification while allotting reservations.
This decision on Muslim reservation was taken in 1975 when Devaraja Urs was the chief minister. Muslims and all sub-sects of the community were included in Category 2B and were given 4% reservation. Havanur Commission in 1975 and Venkataswamy Commission in 1983 also advised for continuing reservation. Chinnappa Reddy and Ravi Varma Kumar commissions also recommended the same.
Legal way ahead
The Cabinet's decision has not yet been implemented in legal form. For it to become an Act, the existing reservation Act would have been amended and presented in both the assembly and the legislative council for approval, before the Governor signs it. To enforce it urgently, the government can issue an ordinance and if the governor signs it, it becomes law for six months. Then a session has to be held within six months and the Act presented and passed in the Legislative Assembly and Legislative Council. "Otherwise, the ordinance will lose its value," said a senior High Court Advocate K Devaraj.
However, with elections just round the corner, the government is short of time. Also, with Muslims going to court, the possibility becomes weaker. It thus looks like a last-minute exercise by the BJP to appease Hindus and satisfy Lingayats and Vokkaligas.
Unfair, say Muslim leaders
High Court advocate P Usman calls the move "grossly unfair". "It is not only wrong that the government took away the share of the Muslim community and gave it to those two communities, it would have been injustice if it had given what it had taken away to any other community or communities," he said.
Muslim Activist KD Aboobakker said, "Under the EWS quota, Muslims will have to compete with candidates from powerful castes such as Brahmins, who already have social capital. So, it is a very uneven decision where the rights of Muslims are affected."
"It is a hoax to pit Muslims against Vokkaligas, Lingayats and Brahmins, and all those communities against Muslims," he added.
A leader from the Vokkaliga Association also raised his voice against this move. "We don't want rights taken away from Muslims. Give them back their share. Not only that, increase their share based on their socio-economic status and population," he said.
Initiating legal action
Former Rajya Sabha member K Rehman Khan held a meeting with Muslim leaders, including Jameer Ahmed, N A Harris, Salim Ahmed and Rizwan Arshad, and decided to take legal action against the decision of the government.
Also read: Karnataka to abolish 4 per cent reservation for minorities
Dr Muzaffar Assadi, Dean Faculty of Arts, Dept of Political Science, Mysuru UV, in his Facebook comment, raised a contradiction on bringing Muslims under the EWS. According to him, EWS is an economic category, not a social one. "If anyone questions this in court, there will be an opportunity for the Muslims to not get a reservation in EWS too," he posted.
Razzak Ustad, Convener of Anjuman-A- Raichur said, "It is already known that this community has tried to control us by bringing up issues such as what to eat, what clothes to wear, where to do business, etc. This decision, taken with the sole intention of preventing the community from getting an education and not joining the government service, is a symbol of authoritarianism."