Driving through NH-44 (Bengaluru-Hyderabad) in Karnataka, the landscape changes at every intersection. In a fleeting moment, you pass by lush vineyards, and the next could be a rugged, undulating terrain. Then, there is a sudden burst of scrawny shrubs, interspersed with green shoots.
The topography of Chikkaballapur is as disparate as it can get. A district that gives birth to at least three rivers is also one of the most drought-prone places in Karnataka. A district with water scarcity and erratic rainfall, it sends truckloads of vegetables and crops to Bengaluru and other cities.
On one edge of Chikkaballapur, on the lap of Nandi Hills (a major tourist destination close to Bengaluru airport), there is a real estate boom, and as you move further north, the glitz starts wearing off. You veer one km off the highway close to the Karnataka-Andhra Pradesh border, you reach Bagepalli, one of the backward constituencies in Chikkaballapur district.
Decades of neglect, apathy
 A drive through Bagepalli, a constituency with a population of over 55 per cent of Muslims and Dalits, images of decades-long neglect and political apathy crop up.
There are no frenetic signs of any poll activity though the Karnataka Assembly election is just two weeks away. Campaigning, too, looks low-key (scorching summer to blame?) with a sense of voter apathy writ large.
So what makes Bagepalli, which rarely makes news, politically significant? It's the only constituency where the Communist Party of India (Marxist) has a chance of winning a seat, or at least getting a sizeable chunk of votes. The Left parties, once a major force in some districts of Karnataka, are struggling to even stay afloat, with a vote share of fewer than 1 per cent in the 2018 Assembly polls. The incumbent MLA is Congress's SN Subbareddy, who won by 14,000+ votes.
Does the Left have a chance to win this time? For that, let us decode some numbers.
In the 2018 Assembly polls, Congress's SN Subbareddy won the Bagepalli seat, garnering over 65,000 votes. CPI(M)'s veteran leader GV Sreerama Reddy came second (with 51,000 votes), while CR Manohar of Janata Dal (S) secured 38,000+ votes. The Bharatiya Janata Party (BJP), which floated actor Sai Kumar, ended up a distant fourth, with just 4,000+ votes.
Also Read: Karnataka Assembly polls: Five 'richest' candidates in the fray
Here lies the number game: Subbareddy's winning margin was 14,000 votes, while JD(S) took home 38,000 votes. In what is seen as a political strategy, JD(S) has withdrawn its official candidate and decided to back the CPI(M) in Bagepalli, making the Left a strong contender this time.
For the record, the CPI(M) has captured Bagepalli three times, with GV Sreerama Reddy winning in 1994 and 2004.
Direct fight between Congress and CPM for ages
Perhaps, it's the only constituency in Karnataka which is still witnessing a see-saw battle between the Congress and CPI(M). Forget winning, the BJP or JD(S) could never come up (even) second though the latter has been upping its vote share (23 per cent in 2018). And BJP had 4 per cent.
Now, with JD(S) extending its support, the Left leaders think the party could wrest back the constituency for the first time since 2004 — also the last time CPI(M) won a seat in Karnataka.
Sensing a golden opportunity, the Left seems to have picked a formidable candidate in Dr Anil Kumar Avulappa, a surgeon who worked with the poor (armed with a team of 150 volunteers), during the COVID pandemic in over 100 villages across Chikkabalapur district.
In fact, Dr Avulappa, who runs a hospital (named People's Surgical and Maternity Home) in Bagepalli, is affectionately called 'People's Doctor'. Incidentally, both his parents and wife are also doctors working in and around the constituency.
During the pandemic wave, Dr Avulappa made a big difference to locals by leading from the front, but the moot question now is: can he win the hearts of people in the elections? The party thinks he can.
"Yes, the response has been overwhelming so far. From whatever feedback we get from the constituency, we are confident of winning the seat this time. Dr Avulappa has been working with villagers for decades at Bagepalli, while his parents too were doctors here. What is at work is decades and decades of goodwill and groundwork. Of course, as a party, we have a solid base and long history of organised struggle in this part of Karnataka. Most Dalit outfits have extended support and working for our candidate," U Basavaraj, CPI(M)'s state secretary, told The Federal.
 Basavaraj also says there is "double anti-incumbency at play" in Bagepalli.
"This is one of the most backward regions in the state. Whatever development you see here — road, health, potable water, irrigation — has been brought in whenever our MLAs were elected. For the last 10 years, every work has come to a standstill, with both the BJP-led state government and the local Congress MLA doing little or nothing. People are worried about basic issues; both the BJP and Congress mostly work for corporate interests, with little interest in uplifting the weaker section of society. There is double anti-incumbency," says Basavaraj, sitting at the CPI(M)'s modest office in the heart of Bagepalli.
Once you move past the chaotic and dusty Bagepalli town, you see large swathes of deserted land with no houses or even human faces. Summer is simmering, yet there are no tender coconut sellers or hawkers wayside. Occasional bike riders with three or more people or packed rickety autos zip past, following strict lane discipline.
Then, suddenly, a cluster of shops and homes pop up, like mushrooms in a vast expanse. The road (freshly asphalted?) snakes through soothing canopies. You deviate from the main road, and you spot homes looking like tiny dots, erected on stonewalls, probably with pieces picked from bare granite outcrops seen all over the district.
We slow down to take a close look at a herd of goat grazing in barren land under blistering sun. Not a patch of green!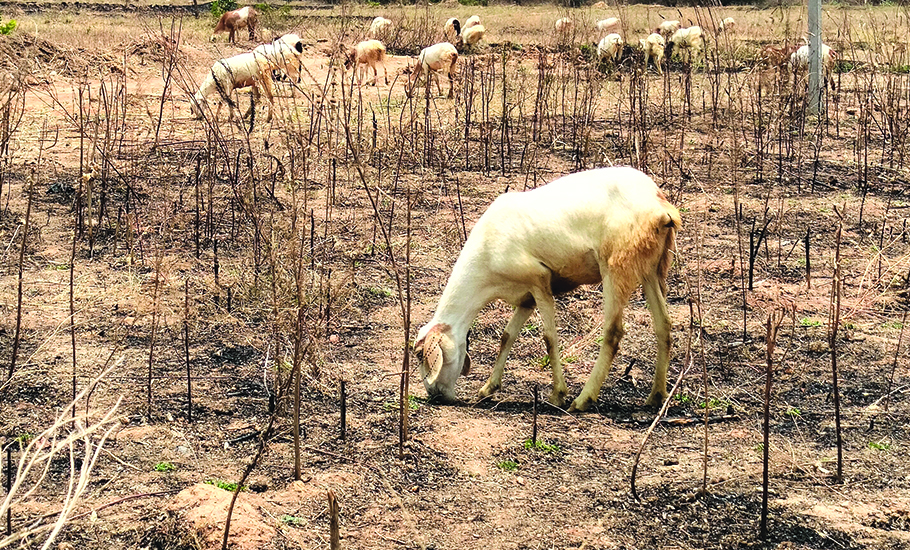 'It's a cursed place'
"Elections come and go, there is little change on the ground. For ages, we have been grappling with many issues, particularly water-related. If the land has to prosper, we should generate employment. You know, there is not a single factory here. You dig deep almost 1,200 feet, there is no trace of water. Sometimes, I feel this is a cursed place beyond redemption," says Simha Reddy, who has been running a shop since 1961 at Guluru, a tiny hamlet 10 km from Bagapelli town.
Braving water shortage, inclement weather and scanty rainfall (535 mm a year), farmers here cultivate crops and vegetables, mostly groundnut and beetroot, which require less water. Rain-fed crops like sunflowers are also grown in plenty.
The government is trying to transport treated sewage water from Bengaluru through gigantic pipes to multiple lakes in these villages so that groundwater can be replenished. Ironically, the bulk of these vegetables and produce is sent to Bengaluru and other cities as 'fresh from the farm' labels.
Thus, water, or the lack of it, is one of the biggest issues, besides lack of employment, schools and health centres. For sure, geographical limitations aside, Bagepalli is hoping to change its history.
Dr Avulappa wants total revamp
So what does Dr Avulappa have in mind?
"Beyond doubt, Bagepalli needs a total overhaul. Basically, there is no governance at all. Be it roads, connectivity transportation, schools, colleges and hospitals, it's all in a shambles. We need to set up industrial clusters in three of our taluks to generate employment. It is painful to see women travel 60-70 km daily to work in garment factories while we can set up factories in our backyard. Quality healthcare is a top priority. In Chelur taluk, there is only a primary health centre running with a single doctor. Hospital upgradation is a must. We all tend to ignore, but veterinary hospitals should be a top priority," Avulappa tells The Federal.
Avulappa says landless farmers have not been allotted land though they had their applications filed almost 30 years ago.
"The situation is so grim that the priority list is endless. In some stretches, there are no roads at all. The main road which you see now was widened during CPI(M)'s tenure years ago. We set up primary schools in every village. Governance has gone for a toss for the last 10 years or so. Anti-incumbency is at its peak," says Avulappa, who believes CPI(M) is a strong contender to win the seat.
"Yes, we are optimistic due to multiple factors. As I said, anti-incumbency is really high, plus the support of JD(S) surely brings a significant number of votes. More importantly, the party's base is still intact. In fact, CPI(M) never slipped to the third position (in history); either we won or ended up second," says the surgeon, wrapping up a quick conversation with The Federal.
Left presence in Karnataka
The Left parties, once a major force in some districts of Karnataka, are struggling to stay afloat. As per poll data, the Left managed to garner less than 1 per cent of votes in the 2018 polls. Earlier, the Left used to win regularly in constituencies such as Kolar Gold Field (TS Mani), Rajajinagar(a constituency in the heart of Bangalore from where CPI's MS Krishnan won twice), and of course Bagapelli.
CPI(M) politburo member and former Kerala education minister MA Baby, who campaigned at  Bagepalli, says elections have become a 'money game' where smaller parties get stifled.
"The BJP and Congress are pumping in crores during elections. At Bagepalli, we mostly rely on old-style election work by conducting door-to-door visits and short village meetings. Party workers contribute little sums, whatever they can afford. We are confident of winning the constituency," Baby, who is now in coastal Karnataka for election work, told The Federal.
Bagepalli, a Congress stronghold
Arithmetic and calculations aside, it won't be easy for the CPM to topple the Congress' SN Subbareddy, a businessman with over Rs 100 crore in assets, who is now looking for a hattrick in what can be described as a Congress stronghold (eight wins in total).
Also, this is the first time CPI(M) is facing the elections without GV Sreerama Reddy (won in 1994 and 2004. Expelled by the party on disciplinary grounds, Sreerama Reddy, still a towering figure in this part of the state, died in 2021.
Also Read: Belagavi: 3 factors that could swing poll results in Karnataka's biggest district
It's learnt that a group of Sreerama Reddy loyalists might vote for the Congress, which could hamper CPI(M)'s chances.
"At the outset, the numbers favour the Left, but it's going to be an intense, close fight. In Avulappa, the CPI(M) probably has got the best candidate. Since JD(S) does not have an official candidate, its votes might get split between CPI(M), Congress and even BJP. The caste factor is also at play. It's going to be one of the closest fights in the district. The BJP too will fancy its chances," says a Chikkabalapur-based journalist (sought anonymity since he is covering the polls), working with a Kannada newspaper.
The BJP, though traditionally weak, is also looking for a win by fielding C Muniraju, who many believe is a strong candidate. In the Lok Sabha elections, the BJP polled over 45 per cent in the Bagepalli Assembly segment, which should boost the party workers' morale.
As shopkeeper Simha Reddy asks, are Bagepalli's fortunes beyond redemption? Can a surgeon heal long-festering wounds? Or is it business as usual? Or will the BJP spring a surprise?
As we drive back, dusk paints the horizon with vibrant colours. Can the Left paint the town red? May 13 will decide.