A Karnataka Congress delegation on Saturday (January 4) filed a complaint against BJP MLA Gali Somashekara Reddy, brother of mining scam-accused Gali Janardhana Reddy, for making communal statements over the participation of Muslims in anti-Citizenship law protests.
In a video that is doing rounds on social media, Somashekara Reddy was seen on Friday threatening the Muslims against participating in the ongoing protests.
"We (Hindus) are 80 per cent, and you (Muslims) are 17 per cent. If you have to live in this country, you will have to live according to our customs. Imagine what will happen to you if we take to the streets," Reddy was seen saying in the viral video.
Advertisement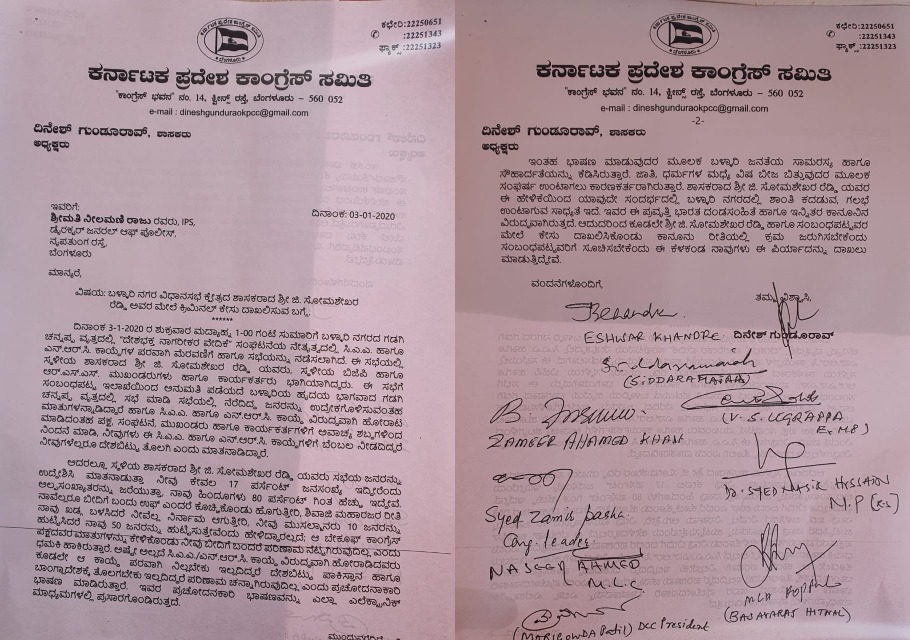 "Idiots from the Congress party were spreading lies about the Citizenship (Amendment) Act and people are protesting because they believe in such lies," he said at a pro-CAA rally in Ballari organised on the day when Prime Minister Narendra Modi was in the state.
However, this isn't the first time a state BJP leader criticised the anti-CAA protesters.
On December 23, BJP's South Bengaluru MP Tejasvi Surya said "only puncture-wallahs and the illiterate" opposed the Act. Reddy also defended Surya's 'puncture-wallah' remark in his rally. In another incident, BJP's Telangana MP, Dharmapuri Aravind, had threatened AIMIM leader Asaduddin Owaisi saying he would hang him upside down and shave off his beard.
Also read | Civil disobedience call at one lakh strong anti-CAA rally in Bengaluru
The BJP and its allies have been organising rallies in support of the contentious legislation even as citizen groups, students and opposition parties have been continuously agitating against it. The saffron party plans to conduct nationwide rallies this month to raise awareness and build support in favour of the controversial law.
The law seeks to provide Indian Citizenship to refugees from Pakistan, Afghanistan and Bangladesh who have escaped religious persecution from their country.