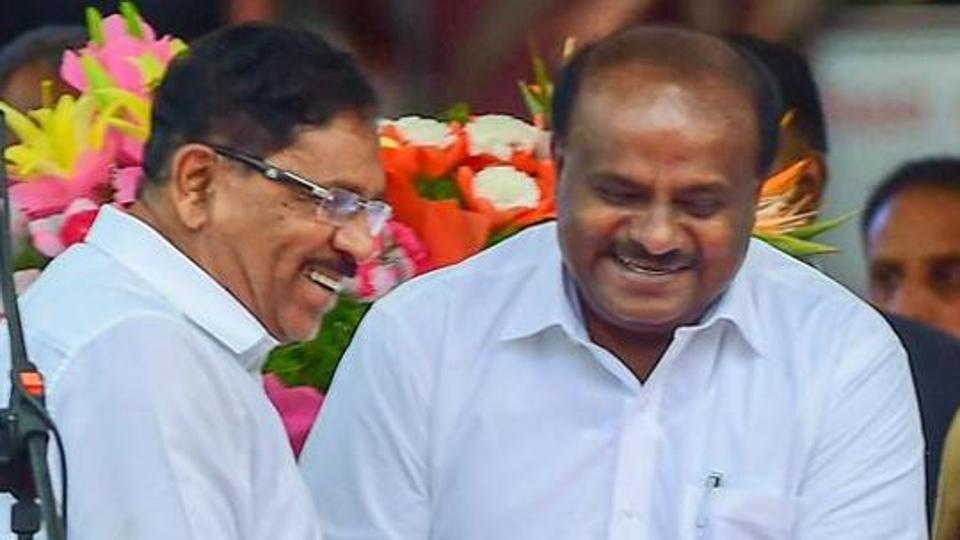 Karnataka coalition government safe: Deputy CM Parameshwara
A day after the Lok Sabha election results were announced, Karnataka Chief Minister HD Kumaraswamy and his deputy G Parameshwara expressed confidence that there was no threat immediate to the coalition government.
"BJP got a clear mandate in the national elections. This is not a mandate for the state. So, our coalition will continue. Opposition is trying to destabilise the government and we will not allow them to succeed," Parameshwara said after an informal cabinet meeting.
"Members of Congress Legislative Party led by Siddaramaiah have reposed faith in the leadership of Kumaraswamy," he added.
The one-year-old JD(S)-Congress regime, with wafer thin majority, was on uncertain grounds after the parties suffered a poll debacle winning just two seats. The BJP won 25 of the 28 Lok Sabha seats in Karnataka.
As of May 24, in the 224-member Assembly, the opposition BJP had 105 Assembly seats, Congress had 78 seats and JD(S) 37 seats, one each from BSP and independent, and Karnataka Pragnyavantha Janata Party (all three supporting ruling coalition), apart from one speaker.
So, the coalition had total 118 seat, five more than the majority mark.
Sitting MLA Krishna Byre Gowda and Eshwar Khandre who hold two Assembly seats contested for Lok Sabha elections this year. Since they lost the election, the seats remain with the Congress.
The BJP expects Congress MLA Ramesh Jarkiholi, two independent MLAs and Roshan Baig, who expressed dissatisfaction with the Congress, to join the party. Belgaum member of Parliament, Suresh Angadi from BJP said Jarkiholi will join the party this week. However, senior party leaders said they would not make any hasty move to dislodge the ruling government. Rather, they would wait for the government to collapse on its own soon.
Union Minister DV Sadananda Gowda on Thursday made a statement that the JD(S)-Cong regime to acknowledge the terrible loss and the Chief Minister should resign on its own honouring people's mandate. Another former minister R Ashoka asked Kumaraswamy to resign on Moral grounds.
Commenting on the development, Congress leader Eshwar Khandre said the chief minister will not resign and BJP can make all demands to seek his resignation. "We have a tactical understanding based on the mandate given to us in the state election. The party high command will talk to the dissatisfied MLAs and stop them from quitting."
Owning moral responsibility for the party's defeat in the Lok Sabha polls, senior Congress leader HK Patil, on Friday, tendered resignation from the post of Karnataka pradesh Congress campaign committee chairman.
The Lok Sabha results was a huge setback for senior Congress leaders like Mallikarjun Kharge, KH Muniyappa, Veerappa Moily among others.
Kharge, who was popularly known as 'Solillada Saradara' (a leader without defeat), faced his first electoral loss in decades. BJP's Umesh Jadhav in Gulbarga defeated him by a margin of 95,452 votes.