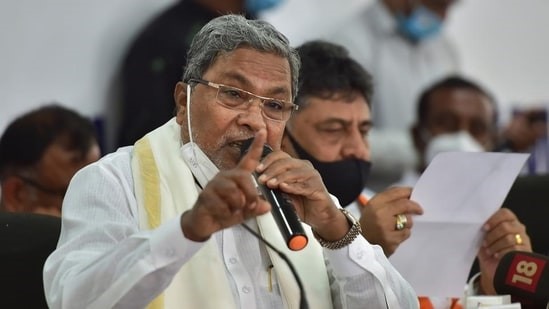 Karnataka CM to call industry bodies for talks on power tariff amid bandh call on June 22
In the wake of outrage by certain industry bodies over hike in electricity tariff rate, Karnataka Chief Minister Siddaramaiah on Sunday said he would call a meeting with the industrialists to address their concerns.
The chief minister said the uproar was uncalled for as the electricity bills will come down from next month onwards. As the Hubballi-based Karnatak Chamber of Commerce and Industry (KCCI) gave a call for bandh on June 22, the chief minister said the office-bearers of industrial bodies were invited to clear the doubts.
Also read: Karnataka's free power scheme: Who is eligible and all you need to know
"To convince them, facts and figures have been given. I hope that they are convinced. Our officials also called them and spoke to them," Siddaramaiah told reporters in Bengaluru. According to him, the power bills looked exorbitant to some because people had received the charges for two months. "Tariff will not come down. The bill amount appears hefty because two months' bill was issued. Next month onwards, the bills will be delivered every month. Subsequently, the billing amount will come down," he added.
'Power tariff hike abnormal'
Giving a call for the bandh, the KCCI said in a statement to its members that the price hike in the electricity charges was abnormal. "We request the trade and industry to close their establishments on June 22. This is in protest of abnormal price hike in the electricity charges by Electricity Supply Companies (ESCOMs)," KCCI said.
It said that for the past eight days it made attempts to convey the seriousness of the impact of the hike in electricity charges. "However, no solution is forthcoming from the officials or government representatives," it said. Sandeep Bidasaria, acting president of KCCI, clarified that they were not going against the government but were lodging their protest with a hope that their voice is heard. He requested the government to listen to them and find a remedy.
Also read: Tenants can also avail free electricity under Gruha Jyoti Scheme in Karnataka
The Federation of Karnataka Chambers of Commerce and Industry (FKCCI), a large business body of the state, has not responded to the KCCI's bandh call. Days after announcing the launch of Gruha Jyoti scheme, one of the poll guarantees of the Congress government offering free domestic electricity up to 200 units, the power tariff was increased by Rs 2.89 per unit.
The Karnataka Electricity Regulatory Commission (KERC) said the hike was due to fuel and power purchase cost adjustment (FPPCA) and arrears from April.
(With agency inputs)